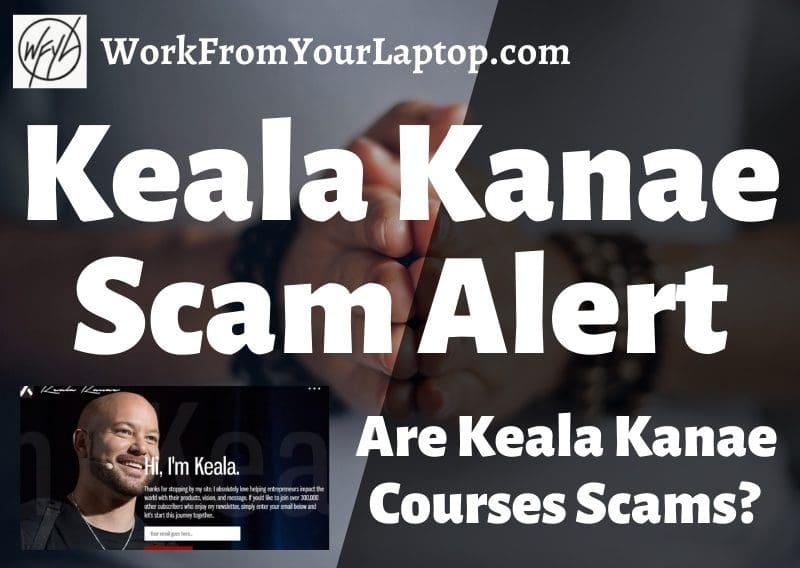 Looking for a Keala Kanae scam alert? Are Keala Kanae courses scams?
After his high ticket training platform AWOL Academy fizzled in 2017 Keala Kanae rebooted it with Fullstaq Marketer.
Will it fare any different? Why is Keala Kanae responding to scam allegations again? Is Keala Kanae legit?
Keala Kanae Scam Alert – Are Keala Kanae Courses Scams?
Online marketing guru Keala Kanae has gotten the negative reputation of possible scam artist because his courses are EXTREMELY high priced and filled with massive upsells. The complaints tend to be from clients who are upset because they had no idea when they made their small buy-in to his courses that it would ultimately cost tens of thousands of dollars to finish.

This pattern has been true for both of his high profile training platforms AWOL Academy and Fullstaq Marketer.
So are Keala Kanae's courses worth the high prices? Should this type of training cost this much?
Are there better and more affordable alternatives?
Let's take a look at his two high profile platforms AWOL Academy and Fullstaq Marketer and see what patterns emerge.
---
---
What Constitutes a Scam?
---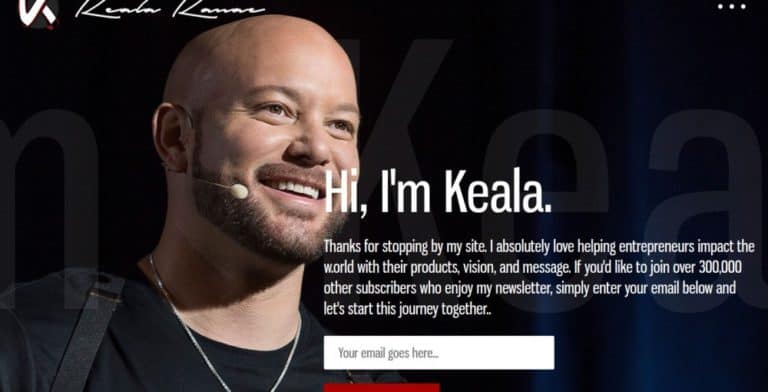 ---
The definition of a scam is when there is an exchange of money without any product or service being delivered.
I've done many reviews on network marketing platforms like World Ventures, Organo Gold, and several other so called "scams" that are 100% legal.
It's important to understand that just because you don't agree with the practices of a product or service, it doesn't necessarily make it a scam unless you are literally tricked into getting nothing for your money. There is a huge difference between businesses that aren't a good investment and businesses that are illegal scams.
So, are Keala Kanae's courses scams? No. They are 100% legal. However, with total costs ranging from $10k-$20k, in my opinion they are not a good investment.
Keala Kanae – How It All Began
---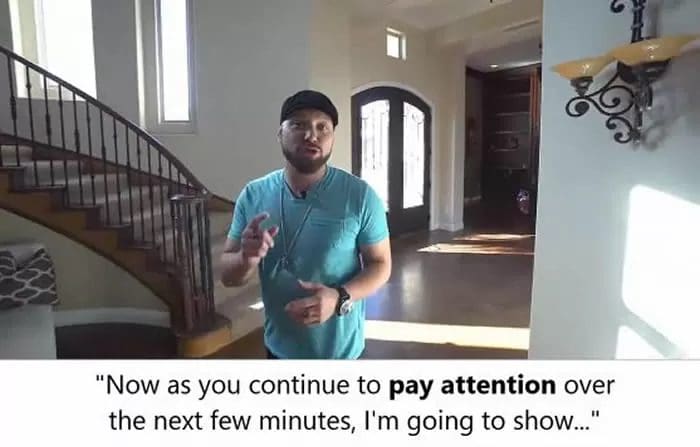 ---
Keala Kenae shares his story all the time in ads like the one above.
Very entrepreneurial minded, he's worked his away out of coffee shops and minimum wage to founding major multi-million dollar businesses.
Unfortunately, this is the exact same story every single "guru" uses when they're pushing their latest, greatest, ultra expensive training.
I'm not saying in any way that his story is a lie, not at all. But for those who have been duped by other high priced training platforms, it's that feeling of "Here we go again" and that's why Keala Kanae's reputation precedes him.
In 2015, Keala Kanae founded AWOL Academy along with Kameron George. The acronym AWOL stands for "Another Way Of Life".
During that time it was hard to be on Facebook and not see one of AWOL Academy's ads with either Keala Kanae or his businesses partner Kameron George walking through a million dollar mansion telling you all about AWOL Academy and how it could change your life.
Personally, one of the things that I feel is too gimmicky when I see an online business opportunity are the mandatory scenes of fancy cars and huge mansions.
AWOL Academy was definitely guilty of this.
Now, I'm not going to say these scenes looked staged, or that there were no photos on any of the walls, or how in one ad Kameron George says "Welcome to our offices…" and in another Keala says, "Welcome inside my home…", because honestly, they both could be telling the truth.
Maybe AWOL operated out of Keala's home and pictures were just removed for personal reasons, but yeah, you get the idea. There was definitely a lot of hype around AWOL Academy at the time.
So what happened?
What Happened to AWOL Academy?
---
---
AWOL Academy was a VERY high ticket affiliate marketing training platform that ultimately didn't have enough success within its membership to justify that high ticket pricing.
Reports vary, but the common number online is that there was only a 3% success rate.
Now, in this case what defines "success"?
I would imagine that a "successful" AWOL Academy member would be one who spent money for the training, and got it all back plus some.
In other words, someone who profited from the training.
And being successful in AWOL Academy could've proven very difficult given the high pricing for the training.
Just how expensive was it? Can you say $10k-$20k?
Ouch.
Still, was AWOL Academy an illegal scam? No.
But when you promise training that delivers and make it this expensive, the second people don't find success they are hit with this intense feeling of "What have I done with my hard earned money?"
And can you blame them? This is where complaints poured in.
---
---
Related Article at WorkFromYourLaptop.com!
Check out "Is Affiliate Marketing Worth It?" and see that not all affiliate marketing training platforms follow the high ticket pricing and massive upsells pattern. You can get trained affordably!
Long story short, while some may have found AWOL Academy success, those success stories got drowned out by the AWOL Academy complaints.
AWOL got scrapped in 2017.
Keala Kanae and Kameron George parted ways, and a couple of years later in 2019, Keala reemerged with what Fullstaq Marketer.
An AWOL reboot, it has been reworked, reimagined, and fine tuned to churn out more success stories than failures.
Fullstaq Marketer – Will It Follow in AWOL Academy's Footsteps?
---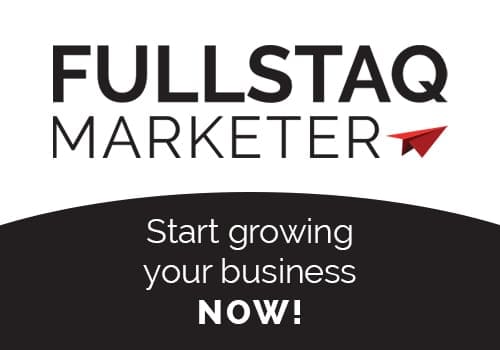 ---
Keala Kanae's latest project Fullstaq Marketer is billed as "The World's Greatest Internet Marketing Training".
As you'll see, it mirrors AWOL Academy's blueprint from its high ticket pricing all the way to its upsells.
In fact, with some of the training module descriptions, they are literally word for word copies of AWOL training.
JULY 2021 UPDATE: At the time this article was first published in April 2019, 1 of the modules was showing as completed on the Fullstaq Marketer website, while 3 were labeled as "Coming Soon". Over 2 years later in July 2021, out of the 4 modules it is still only 1 is showing to be completed with the other 3 tagged with "Learn More" which leads to only a Contact Us screen. Not a good sign.
---
---
Check out the video below and see how Fullstaq Marketer is unfortunately falling into the same blueprint as AWOL Academy.
I break down the pricing, what to expect form the training modules, and why, in my opinion, this is simply not a good investment after seeing how AWOL Academy turned out.
---
---
Why is Fullstaq Marketer Taking So Long to Get Off the Ground?
It's really bizarre to me as I'm updating this article 2 years after I published it that Fullstaq Marketer STILL isn't complete.
While updating this article, I noticed that Keala Kanae has created an ad posing as an "open letter" responding to scam allegations.
---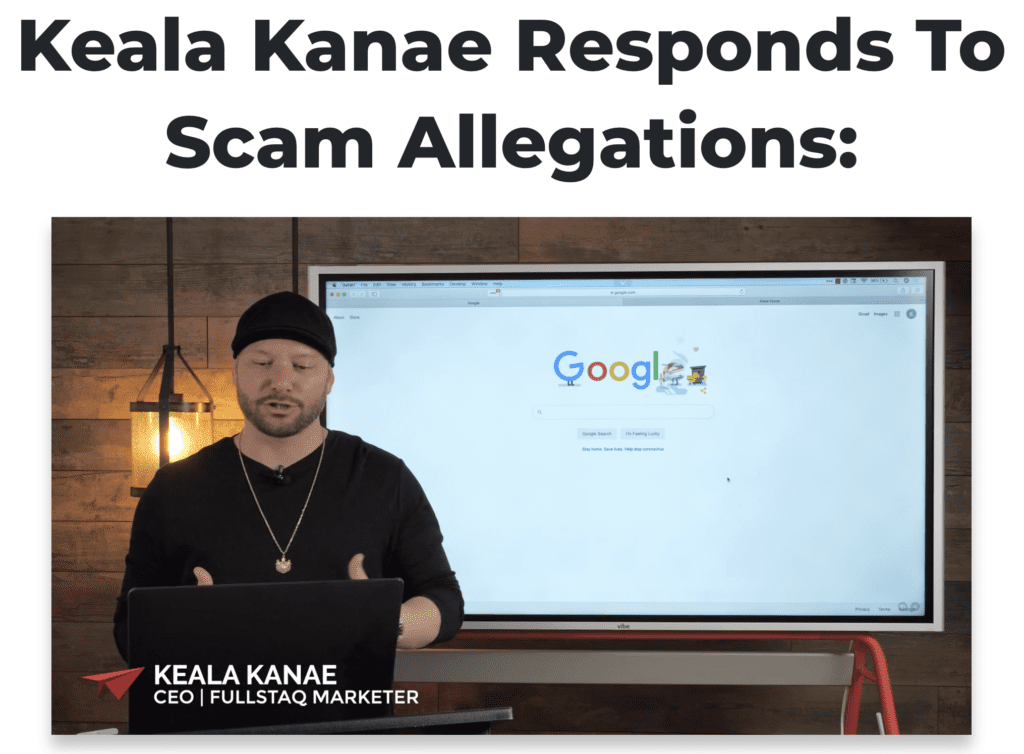 ---
In this ad, Keala Kanae goes through Google's top search results and articles that review his platforms.
He calls articles about him that have "scam" in their title "click bait", saying that the authors of those articles are simply trying to make a commission on another product.
The problem here is that searches for "Keala Kanae Scam" are popular because many, many, many people are making that search.
Affiliate marketers don't control that.
And it's also important to note that his own ad with the words "Keala Kanae" and "scam" in the title is aimed at selling his products.
I'm not sure if drama that he's going through is causing delays in Fullstaq Marketer being completed, or if it's because of further scam allegations, but if you're looking to find solid online marketing training, I think the red flags here are enough to maybe pump the brakes.
Final Thoughts
Love him or hate him, Keala Kanae has been a successful online marketer for years, turning out online training platforms that have made him millions. His first training platform AWOL Academy only lasted a couple of years and then fizzled along with its ultra high pricing and a la carte training module system. In 2019, Keala rebooted AWOL and released Fullstaq Marketer, closely following the exact same high ticket pricing blueprint filled with expensive upsells. It's yet to be seen how Fullstaq will perform.
If you're interested in affiliate marketing training that is straightforward, thorough, and AFFORDABLE, check out my top recommendation here.
It's the same platform I got my training from, and I've had nothing but positive results from it.
Were you an AWOL Academy member? How much did you end up spending? Were you satisfied with your results?
Are you looking into Fullstaq Marketer and can't shake the "I don't know about this" feeling? Let me know in the comments section below! Ask any questions you have!
I always respond and I look forward to hearing from you!
Recent Articles