In this review (with video) we'll take a look at Too Damn Easy and the unbelievable premise that is hard to believe people actually buy into. Sit back and watch the promises "Q" (the mysterious founder) makes. See the materials he uses to convince people to send large amounts of money to strangers. And last but not least, see how much cold, hard cash you can expect to show up on your front doorstep. Is Too Damn Easy a scam? Are there cash gifting programs that work? Let's find out.
What is Cash Gifting? Are There Cash Gifting Programs that Work?
What is cash gifting? Cash gifting actually dates back way before the internet if you're old enough to remember that far. It is a popular pyramid scheme where money is exchanged, but there is no actual service rendered. Instead, payments are promised for enrolling others into the same scheme.
This used to be popular with chain letters. You would receive a letter in the mail with 5 names/addresses on it and instructions that you are to follow. Step 1: send $1 to each of the names/addresses on the letter. Step 2: remove the top name, move the other 4 names up one spot, and put your name and address in the 5th spot. Last step: send this new letter with its instructions out to 10 (or more) random people. The premise is that when you sent to 10 who send to 10 who send to 10, by the time your name goes up the ranks from the 5 spot to the top spot you'll have received potentially thousands of random letters from people each with $1 inside.
You're rich! (Not really).
As you well know, these things never work. Too Damn Easy simply puts a modern internet spin on a dated scheme aimed at finding gullible and desperate people.
---
Is Too Damn Easy a Scam? How Does Too Damn Easy Work?
---
As I mentioned at the start, Too Damn Easy is one of the most bizarre schemes I've had the opportunity to review. It starts from the top. The man behind the business simply refers to himself as "Q". There is nothing more you know about him. You hear his voice, but you never see his face. This should raise huge red flags by the way.
When you go to the TooDamnEasy.com website you're greeted with an out of focus video showing a super close up view of 600 stacked $100 bills. Most of Q's videos follow this theme. You'll see stacks of money on the floor, stacks of money on a table, and stacks of money in a cash counting machine.
Thankfully, when you enroll with this system, you are provided with Too Damn Easy instructions:
---

---
Is Too Damn Easy a Scam?: The Red Flags
---
When you ask yourself, "Is Too Damn Easy a scam?", think about what red flags would pop up if you did encounter a scam online. Think about all the things you've been warned to stay away from when it comes to online scams. Too Damn Easy will have all these red flags popping up and more.
First, we've already established that you never see the founder's face or know his real name.
Second, it costs a minimum of $2000 to buy in to Too Damn Easy.
Last, you will be sending this hard earned money to someone whose name you don't know and whose face you've never seen and hoping other people are willing to do the same.
As you can see from the instructions Q provides you with, you will use the tools provided to reach out to random people to get them in on this same process.
The main tool is a postcard where you don't have to say or do anything except mail it out. It does all the talking and convincing for you! When your recipients see this work of persuasive art, they will be running to their computer to get started!
May I present Exhibit A, the postcard:
---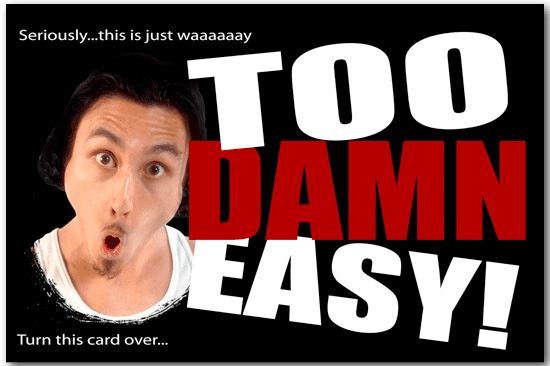 ---
It amazes me that anyone in their right mind would take that postcard seriously. To be asked to send a minimum of $2000 off to a stranger after reading a postcard like that should raise all your red flags!
So, are you following how all this works?
You buy in for a minimum $2000 (Q's levels go up all the way to sending off $18,000 if you can believe that). You download Q's awesome postcards loaded with his persuasive mastery. You have your own referral number placed on these postcards. When you send these out to the masses, people will follow the instructions and login to the Too Damn Easy website and enter your referral number. They will then be closed by Q where he convinces them to buy into the Too Damn Easy system. They pay their $2000 which would go to you and then they download their postcards and send them out to the masses, etc…
"I'll take Modern Pyramid Schemes for $200, Alex!"
---
I've got to hand it to this guy, he has built quite an elaborate scheme here. He has 10 different domains he's running this program off of:
www.TooDamnEasy.com
www.ExtremelyFastCash.com
www.NextDayMoney.com
www.CashGifting.net
www.CashGifting.org
www.CashGiftingProgram.com
www.CashGiftingPrograms.com
www.CashGiftingExpert.com
www.TheCashGiftingExpert.com
www.CashGiftingLeads.com
He also has a phone line you can call where you can listen to him talk about his sweet success. He offers up testimonials and even has it set up so you can download some information if you're calling from a fax machine!
Is Too Damn Easy a scam? It's definitely an elaborate and detailed scheme he's put together. If Q put his efforts into something more straightforward (and legal)  there's no doubt in my mind he'd be a legitimate success.
---
You also get access to a 25 page ebook that is utterly useless in my opinion. Yes it actually is 25 pages.  It explains the system in detail and touches on the different levels you can buy into.
All kidding aside, there are actual people throwing their actual money into this scheme. Is Too Damn Easy a scam? Sadly it is and it can get quite expensive.
---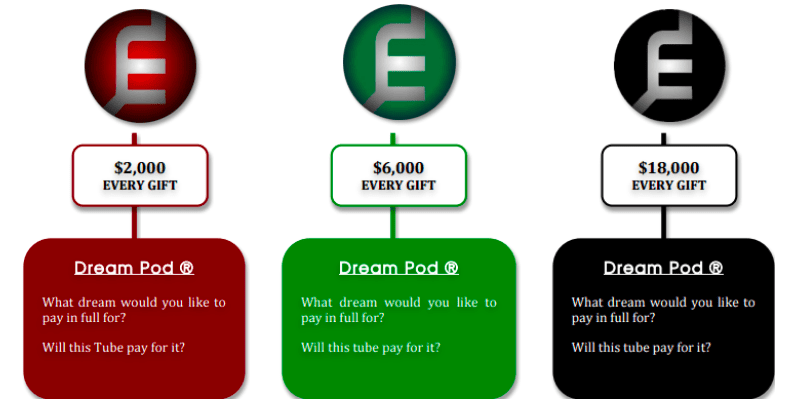 ---
People are being convinced that sending off up to $18,000 to a stranger is a good idea. They have visions of all these other strangers sending up to $18,000 to them. Don't fall for this!
I don't usually throw the "scam" word around lightly. Some opportunities may be expensive, and some may be doomed to plateau relatively quickly, but most usually offer up some kind of product or service making them legal.
This is not one of those opportunities. Is Too Damn Easy a scam? Yes. We don't even know who Q is! There is no product or service here! It's no wonder Q has made it impossible to track him. If people knew who he was there would definitely be lawyers drafting together a Too Damn Easy lawsuit. This is the capital of scam city!
---
Summary
---
As if it needs repeating, the answer to "Is Too Damn Easy a scam?" is a resounding yes. Are there cash gifting programs that work? The better question would be: are there cash gifting programs that work and are legal?  Cash gifting is almost always a workaround to make something sound legal that is not. Don't fall for these scams!
There are much better ways to make money online. We'd all love to build an online business for ourselves as our own boss, right? The online community I found teaches just that, and there's no cheesy postcards or large sums of money to send out. You'll learn how to connect people with the products and services they're already searching for online and get commissions every time they buy them. Create a free starter account and see if the training is for you. You've got nothing to lose.
---
Feedback
---
What other opportunities have you seen that you'd like reviewed? Were you close to falling for an online scheme like this one? What has been your main hurdle to overcome when it comes to building a business online? Ask any questions you have and leave them in the comments below. Share your experience! I'm always here to offer my advice and I'm looking to help.
---