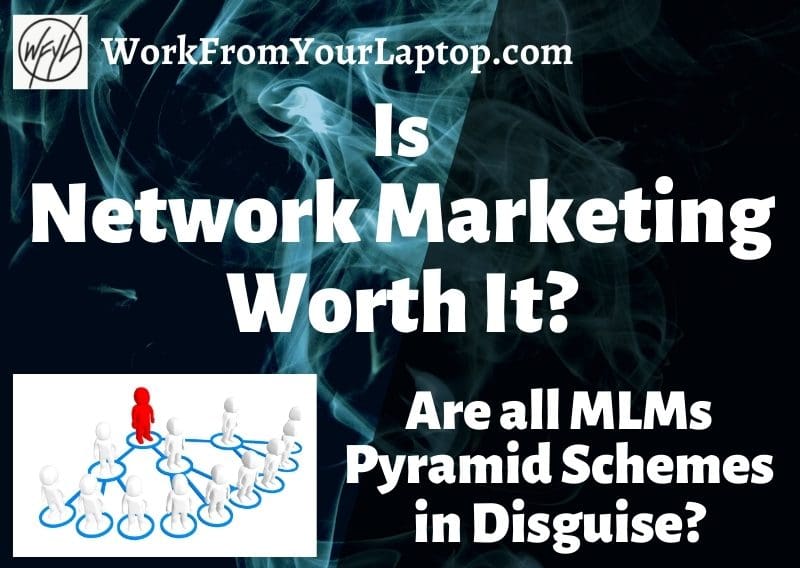 Is Network marketing worth it? This may be a question you've asked yourself after seeing countless "pyramid scheme" type home businesses from friends and acquaintances on social media. But is network marketing legit?
Let's break down the difference between pyramid schemes and MLM (multilevel marketing) and decide whether network marketing is worth your time.
Is Network Marketing Worth It?
Success with network marketing (also known as multilevel marketing) for the most part simply isn't sustainable. Network marketing has EXTREMLY high fail rates convoluted compensation plans, and dwindling returns.
Shockingly, Income disclosure statements show a staggering percentage of network marketers never earn a single dollar.
The Difference Between Network Marketing and Pyramid Schemes
"So is that new home business you're doing one of those pyramid schemes?" Make no mistake about it. Network marketing opportunities are not the same as illegal pyramid schemes.
So what's the difference? In a pyramid scheme, money is exchanged without any service being rendered or product being sold. Have you ever heard the story of the man who gathers 10 people together and charges them $100 each so that he can show them his secrets on how to make a quick $1000?
The 10 people each give him $100 and wait with anticipation. Now with $1000 in his pocket, he tells them to each go find 10 people just as gullible as they were and repeat what he did. He walks away $1000 richer and ten people stand there with empty pockets.
Unlike pyramid schemes where no product or service is given in exchange for money, network marketing is completely legal. So don't worry. Your friends and family who are involved in MLMs aren't scam artists.
Related Article at WorkFromYourLaptop.com!
Home businesses like Herbalife, Amway, ItWorks, Scentsy, and World Ventures all use MLM business models and are 100% legal because network marketing involves the buying and selling of a central product or service.
You will not only buy the product yourself, but you'll also gather customers who buy the product as well. Additionally, you'll be recruiting other representatives who will follow suit doing the exact same thing you're doing.
But when it comes to actually making money with a network marketing business, is this sustainable for the long run?
Because of convoluted compensation plans that are filled with bonuses that so few actually achieve and because so much of your success depends on your downline, it is increasingly difficult to maintain any kind of sustainable success with network marketing.
So then how have so many network marketing companies stayed in business for so long? Why are so many people drawn to their appeal?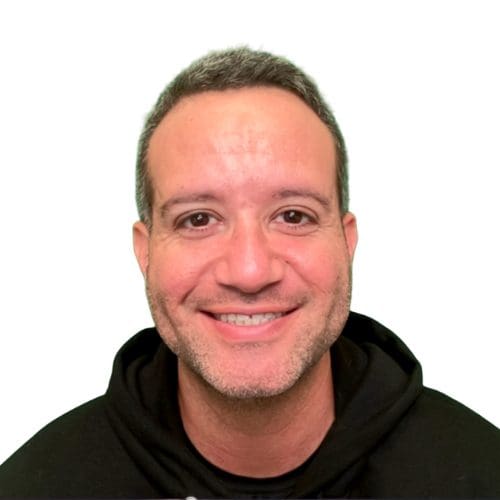 Training That Delivers!
• Turn your own website into revenue
• Step by step training, tools, & support
• Get me as your support coach
What are the Most Profitable MLM Companies?
One of the main reasons for its popularity of MLM & network marketing businesses is the idea of getting paid on the efforts of others. You'll earn commissions by recruiting representatives into your team and also from the amount of product you and your team sell.
There are many successful network marketing companies who have been in business for a number of years. However, this doesn't necessarily mean their distributors are all making money with the business.
A true measure of profitability within a network marketing company is the annual income disclosure statement. We'll take a look at a couple of examples further down in this article that may shock you.
There are literally thousands of network marketing companies to be found online. Some have been around for decades, while others are new up and comers. Some popular network marketing businesses you may have seen on your social media feeds are:
Avon
Herbalife
World Ventures
Amway
It Works
Thrive
doTerra
Scentsy and many, many more.
The vast majority of all network marking companies follow versions of the same compensation plan. These involve downlines and growing "legs".
The Truth About Network Marketing and MLMs
Every single network marketing pitch ever shown talks about the incredible benefits of working with a team and getting paid on not only your own efforts, but theirs as well. Become a customer of the product or service yourself, gather a few more, and then recruit 2-3 people who you'll teach to do the same.
As they gather customers and, in turn, recruit 2-3 more who will also gather customers and recruit, your team will have sustained growth and your commissions will get bigger and bigger as your team grows deeper and deeper.
I'm here to tell you that no one sits back after recruiting 2-3 people and watches their team explode. The business of network marketing is built on never ending recruitment. You will be recruiting all day every day.
This is the truth.
And it's because of often confusing compensation plans filled with dollar signs and bonuses that so many get hooked. Let's take a look at the most popular network marketing compensation plans.
How Do MLM Compensation Plans Work?
There are several compensation plans widely used within the network marketing industry. They tend to be filled with bizarre amounts of bonuses and "Quick Start" commissions all aimed at getting the representative his buy-in back.
It's always very important to research and understand the compensation plan before beginning a network marketing venture. While each specific opportunity can add it's own nuances to a compensation plan, the majority use the core elements of the UNILEVEL, BINARY, and MATRIX compensation plans.
Unilevel Compensation Plan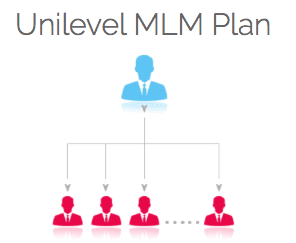 With the UNILEVEL compensation plan you can personally sponsor as many representatives into your team as you like. The representatives you recruit are then free to do the same. It is the simplest of the 3 main MLM compensation plans.
You will get the most compensation for the members you personally sponsor. You then get decreasing percentages of your team's commissions as they get further away from you. In this basic compensation plan there are no ranks and everyone is an equal distributor. No one can surpass someone who's above them.
There are hybrids of this compensation plan like the Breakaway compensation plan. The Breakaway plan allows for a member of your downline to be able to "break away" when he or she meets certain requirements.
Matrix Compensation Plan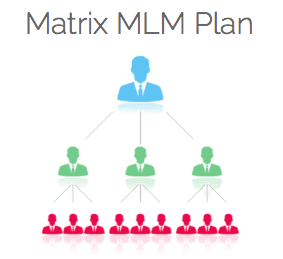 With the MATRIX compensation plan you have a set number of spots open in your team. It is your job to fill them. For example, in a 3×5 Matrix compensation plan, each distributor can sponsor 3 people into the team. They will get compensated up to 5 levels deep.
When it comes time to sponsor that 4th new distributor, instead of being able to place him directly to yourself, you have to find an open spot in another level below. This is called "spillover". This "spillover" feature is one of the selling points of the Matrix compensation plan. If you find yourself directly under someone who is exploding the business, you may be the recipient of distributors being placed in your team.
Binary Compensation Plan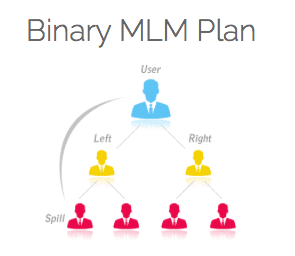 The BINARY compensation plan or Dual Team compensation plan allows you to build two teams, or legs. It is unique in that it only allows you to personally sponsor 2 people into your team. This allows for a good amount of spillover, thereby helping your downline.
If you've checked out my World Ventures review, World Ventures is an example of an MLM using a binary plan.
The Binary compensation plan has one major downside: You only get paid for the lesser of the two teams.
So to fully max out this compensation plan you'd need your team to grow out symetrically which is very rare. In other words, if your team on your left leg has 100+ members while your team on your right leg has only 3 distributors total, you only get paid on those 3 distributors on the right.
Related Article at WorkFromYourLaptop.com!
Reality Check! Network Marketing Income Statistics (MUST SEE!)
The real way to answer "Is network marketing worth it?" is by looking at annual network marketing income statistics. This is an objective way to determine how the majority of people fare with a business opportunity.
Income disclosure statements are public record, and should be easy to look up and easy to understand. They will show the revenue breakdown for distributors of a company. Unfortunately, network marketing income statistics show that most distributors do not make their money back with network marketing MLMs. A staggering amount make no money at all.
Obviously, it would be impossible to cover every single annual income disclosure statement from every single MLM or network marketing company. However, let's take a look at two different income disclosure statements for network marketing opportunities I've written reviews on.
The first is for a coffee based network marketing company called Organo Gold.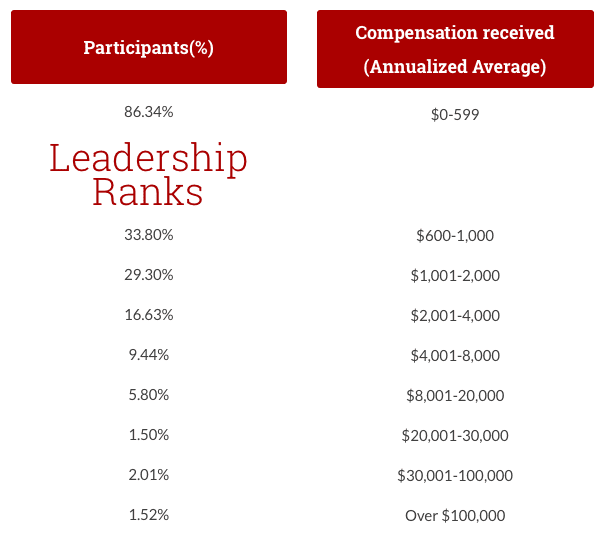 As you can see at the very top of that annual income disclosure, the vast majority (86.34%) of distributors with Organo Gold made an annual revenue of $0-$599. When you take into account the expenses and membership fees involved for this particular coffee based MLM, the earnings is far less than the expenses.
This means zero profit.
Additionally, as with most MLMs it is only the top 1% who make the lofty six figure incomes you see in the business presentations. Now, I am by no means picking on Organo Gold. This is simply one example of a popular MLM. I'm using their own annual income disclosure that they provide and is public record.
Let's take a look at a second very popular network marketing company that I myself was a customer of is World Ventures. Their income disclosure statement actually fares even worse.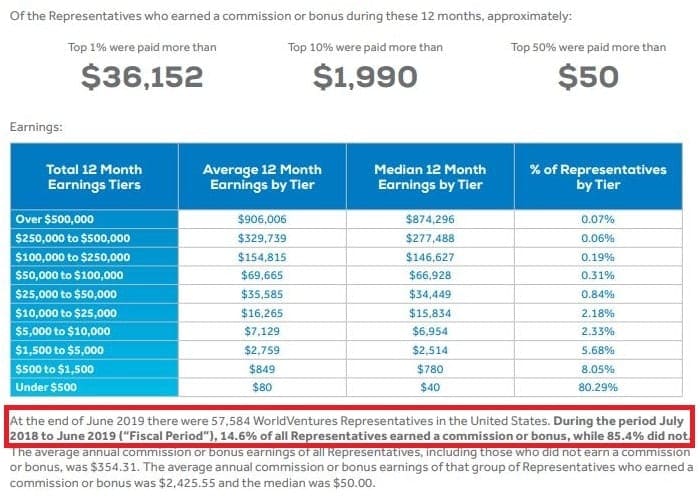 In the example shown above, 0.63% of distributors earned what I would call full time income ($50k+ per year). A whopping 85.4% didn't earn a single dollar of commission.
Does this mean World Ventures or Organo Gold, or any of the popular MLMs you see out there are scams? No. If you don't mind the constant recruiting, you can make some extra income in the very short term with these opportunities.
Many representatives absolutely love the social aspect to network marketing business and the "pep rally" feel to the business presentations.
However, when you need your team to thrive, and the vast majority of your downline aren't profiting, this leads to dead legs and profits that come to a screeching halt.
Related Article at WorkFromYourLaptop.com!
Want a better alternative? Check out my newly updated review of the training platform I owe all my success to! Straightforward, affordable, and FREE to test drive, if you're looking for consistent monthly revenue online, this is the training that delivered for me!
Final Thoughts
If you're looking for sustainable success, network marketing simply isn't worth it. Convoluted and often confusing compensation plans are filled with bonuses that vast majority of network marketers never achieve. In fact, a staggering amount of network marketings never earn a single dollar.
The fact of the matter is that only a very, very, VERY small percentage of representatives will make full time income. The vast majority who get involved with network marketing opportunities do not make their money back.
If you're looking to create a new revenue stream online, there are better, more straightforward ways to build an online business. Affiliate marketing is one of them.
Have you had a network marketing experience you'd like to share? Have any questions? Feel free to leave your comments and questions in the comments section below. I look forward to hearing from you!
Recent Posts