Are you sitting at your computer asking yourself, "Should I travel the world alone?" with dreams of amazing destinations to conquer that are finding themselves squashed by crippling anxiety?
Is it safe to travel the world alone? The answer is YES! It's all about keeping your awareness level up and knowing how to not make yourself a target. Follow these 9 dos and don'ts and get the most out of your solo travels!
Soon, you may end up a solo travel ADDICT like me and end up preferring it!
Should I Travel the World Alone? Is it Safe to Travel Alone?
It's usually the same types of questions you hear.
"Is it weird to travel alone?"
"Is it sad to travel alone?"
"Does solo travel change you?"
"How was it to travel alone for the first time?"
Let me start by saying that I'm absolutely addicted to solo travel.
If your dream is to work from your laptop and see this world like I have, more often than not it's opportunities for solo travel that present themselves.
According to hostelworld.com, people who travel alone:
become more creative
are better problem solvers
are more employable
have improved mental health
and much, much more!
(They also say solo travel makes you undateable, by I'm calling BS on that one, lol.)
So the bottom line is this:
Don't sit and wait for people who can't clear their schedules to go with you! Just GO!
The whole reason I dove head first into affiliate marketing was so I could fund this travel addiction I have.
I started solo traveling in late 2016 and as of late 2021 I've been to 24 countries in 5 years (and that's with a full year off thanks to Covid hitting).
And trust me, as long as you avoid a few KEY mistakes while traveling alone, you can truly ABSOLUTELY have the time of your life and be completely safe while doing it!
Related Article from WorkFromYourLaptop.com!
Now it goes without saying, traveling as a 6'4″ guy can be a COMPLETELY DIFFERENT experience than traveling as a 5'2″ girl, right?
So keep in mind that some of these tips may need to be applied a bit heavier if you consider yourself more of a "target".
Let's start with some basic, common sense tips.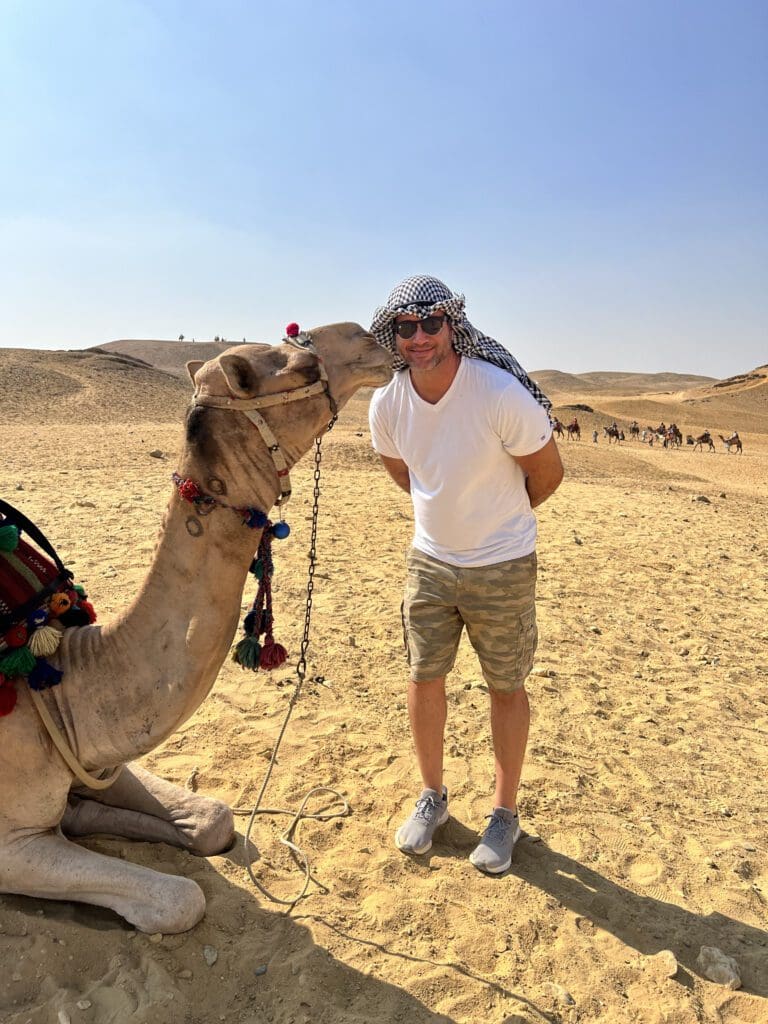 1. You're Gonna Get Lost, Just Don't Look OBVIOUSLY Lost
When you're in a new country you've never been to before, understand this: more than likely YOU WILL GET LOST at some point.
It happens. It's almost inevitable.
The great thing about getting lost when you're traveling the world alone, it's actually less stressful.
You don't have that "Oh my god" factor of someone else freaking out beside you. You can literally just take a breath, find a pub, regroup, and figure everything out over a beer.
Heck I've had times where the pub I walked into ended up being way better than the original destination.
Here's the thing, just try not to look so OBVIOUSLY lost that you become a target to anyone with nefarious intentions.
According to Worldpackers.com in their article on traveling alone, you should "avoid your phone when possible". And while I get what they're trying to say, I completely disagree.
In my experience during my solo travels, my phone has ENHANCED my adventures. It's never taken me out of the moment.
Your phone is your friend. Before leaving your hotel to go check out the local pubs, map out the general areas you want to venture out to. Keep in mind where the major landmarks are to make it easier to navigate.
Lost in a subway? It happens. If you just can't figure your way and can't find an attendant to ask, make your way up to street level.
Pull out your phone, take a look at landmarks around you, open your maps app, and just regroup.
Where am I now? Where are the spots I want to check out from here? Where is my hotel?
In the event you have to walk several blocks to your next stop, keep your maps app open and have your phone in your hand to help you navigate.
No one knows you're checking your map! For all they know you're checking your social media, right?
Knowing where you're at allows you to feel that much more comfortable as you check out all the new sights!
2. Don't Overpack Your Itinerary!
I think one of the most common "rookie" mistakes solo travelers make is overpacking their itinerary with so many excursions and activities that they give themselves no days to rest.
Listen, I get it.
"I didn't come all this way to hang out in a hotel room."
But you know what? Having at least a couple of open days with no plans on the itinerary allows you to not only sleep in (like you're supposed to when you're on a vacation), but to also be SPONTANEOUS.
I've had the most amazing adventures during those open days.
I saw the AMAZING northern lights in Reykjavik with 2 girlfriends who I met only hours before.
We grabbed some wine, I drove their rental car about 45 minutes outside the city, and we stayed out all night in complete awe as the sky danced.
I hiked up and down a mountain visiting Burgenstock on my last day in Switzerland with two girls I met at the hotel bar the night before.
We had an absolutely AMAZING time that I wouldn't have been able to experience had it not been for my open last day.
Ok so my examples always involve me and two girls but that's neither here nor there.
The key point to remember here: rushing around because you have an ULTRA PACKED itinerary makes you less aware of your surroundings and more susceptible to being a target because you're standing out as a typical tourist. Relax!
Even if you don't go off finding adventure on your open days, just chilling and finding a great pub to sit down amongst the locals is an experience you should savor during your solo travels.
3. Don't Kid Yourself Into Thinking You'll Be Lonely
In Quora's post "What is it like to travel the world alone?", there is a quote in an answer that reads "Solo travel is as lonely as it is liberating."
Again, this is a big NOPE from me, at least to the first part.
Let's get something straight: solo traveling is NOT lonely.
In fact, if there's one thing I've learned it's this: when you travel with people you know, you mostly talk to those people you know. When you travel solo, you talk WAY MORE to locals and other tourists alike.
It's the truth!
I feel like every solo travel I make leads to some sort of completely unplanned adventure because of the incredible people I meet.
So let your personality shine! Talk to your servers, your tour guides, your bartenders, the people around you.
When you're traveling alone, you'll actually spark conversation with just your presence. Trust me.
"Who are you here with? Oh wow you're traveling by yourself? I've ALWAYS wanted to solo travel!"
I feel like I'm opened with that conversation on every trip I take.
The only way you'd feel lonely is if you're completely antisocial while traveling.
And if you ARE a bit on the antisocial side, why not take this opportunity to be a slightly more outgoing version of yourself, right?
Bask in your anonymity. You could be a whole different person while you're away.
Or, maybe you truly enjoy your time alone! Either way it's a win!
4. Don't Place Yourself into Shady Situations
This one may be the most commons sense tip, but it needs to be said.
Solo travel truly leads to the most amazing memories. Seeing the world and, better yet, realizing that you're doing something that so many WISH they could do is in itself an experience of a lifetime.
Daytime excursions can make you feel more and more comfortable about being out and about by yourself.
However, you don't want to become reckless.
Be aware of your surroundings. If you've stayed out late and are needing to walk to the subway or to your hotel, maybe don't go down that dimly lit alleyway as a shortcut, right?
Are plenty of other people out walking too? Perfect! Are the streets completely empty with no one in sight? Maybe an Uber or a taxi isn't such a bad idea.
Has it gotten too late to walk back to the subway? Ask the server if they can call a taxi for you.
Like I mentioned before, there are differences between solo traveling as a male compared to a female.
I've literally stumbled home through alleyways in Rome from 2:30 am till 5 am after I closed out the bar and realized the subway was closed.
But I'm also a 6'4″ firefighter. If I was a petite blonde it may not have gone so well, know what I mean?
5. Absolutely Listen to the Locals!
Let's switch our mindset just slightly shall we?
From all the "don'ts" let's jump into the "dos".
For our first "do": Listen to the locals! You CANNOT get better advice about a new city you've never been to before than from THE PEOPLE WHO LIVE THERE!
Something I enjoy doing, especially when I'm grabbing a bite to eat, is to ask the waiter what his or her favorite dish on the menu is.
Nine times out of ten, you'll end up getting extra attention because now the waiter feels almost responsible for you enjoying your meal since they suggested it.
They also tend to open up with other great suggestions if you take the time to ask.
"Where do you guys go when you want to grab a drink?" "Where's a solid spot for live music?" "I know tourists come through here a lot, but is there a spot with more of a local flavor?"
And when you get to these local hangouts, even if they're dives, tell the staff that you're there because so and so over at the place you were eating at said it's one of their faves.
Guess what happens to your service? They want to live up to the recommendation right? So they treat you like you're a regular and you end up making even more friends!
Making contacts across the globe has been one of the most rewarding aspects of traveling alone. Do it and you'll have a reason to go back, you'll know someone who can direct you to all the best spots, and you've suddenly upped your travel game.
Having drinks with the singer from the Robot Restaurant in Tokyo
Lunch with my server on her day off in Reykjavik
6. Use This Great App to Make Sure You Don't Miss a Thing!
Like I said earlier, your phone and technology is your FRIEND.
There's a solid app I've used on countless trips that helps me make sure I don't miss out on something the city I'm visiting is known for.
It's called "Visit a City" and it's free.
This is a great and easy app to use for planning out your visits to a city you've never been to.
All you have to do is enter the city you're visiting (just about every big city is in the app) and then put in the number of days you'll be spending there.
Is your visit going to be a quick 2 day stop? Maybe a bit longer at 5 days? No problem.
Visit a City will then give you options on your itinerary styles. Choose from a packed itinerary, an easy going itinerary, one for kids and family, etc.
And the best part, it sets up your list of places to see keeping in mind their proximity to each other.
It'll show you how much time you should spend at each stop to get the most out of them.
It's really a great app.
I'll punch in my city and how long I'll be there and then I can immediately take note of the places I can't miss along with the spots I'll be ok skipping.
I can't remember how I found it, but I never make a trip without checking out its suggestions. You'll love it!
7. Learn the Public Transit ASAP
The first day you arrive in a new city, you're not going to know how to get around at all.
If you're a seasoned solo traveler like I am you already know not to have booked any excursions on that first day.
Why? First of all, if you've just been traveling for 10-24 hours YOU NEED TO REST.
Use that first day after a long travel day to get yourself situated and familiar with how to get around the city!
Solotravelerworld.com lists their top 3 things to do when you visit a new city:
Get oriented
Walk!
Get familiar with the public transit
I agree!
Walk around aimlessly. See what's around you.
Are you in London, Rome, or Tokyo? Make your way to the subway and learn it!
Even if you're from a city that has no subway system and you're not at all familiar with them, once you take a look at how the system works you'll find it's very cheap and makes getting around the city a BREEZE!
Once I leaned the Tokyo subway on my very first solo travel, it's like it unlocked the entire metroplex for me!
I could go ANYWHERE!
Or maybe you're somewhere where buses can get you around. Or maybe Uber is available.
Check out your transit options as soon as possible and in a couple of days when you're hopping on that bus or subway with your headphones on knowing exactly how to get around you'll be blending in with the locals like it's nobody's business.
For me personally, I LOVE a walking city.
If the weather is great and the spot you want to get to is a 30 minute walk away, DON'T BE LAZY! Just DO IT!
Taking in the sights while you're walking the streets of a new city is the best way to find completely unexpected gems.
8. Take Photos and Videos Like Crazy!
For all the people who say that your phone takes you out of the moment and it's better to just leave it in your pocket, WHY WOULD YOU DO THAT?
The incredible memories you can capture with that unbelievable technology that fits in your pocket will keep you smiling for DECADES!
Did you just spot the absolute perfect picture you wanna take but people are everywhere? Wait them out!
When an amazing shot is just screaming for you to take it, take your time and get the shot. It doesn't matter if it takes you 30 tries, just get it. You may never get another chance in your LIFETIME!
I literally spend a full hour crossing back and forth at Shibuya Crossing in Tokyo just so I could get a perfect video. I had a BLAST!
And if you're by yourself and you're thinking "Well who's gonna take my picture?"… just do like EVERYONE ELSE is doing and take a SELFIE!
No one's judging you. They don't even know you!
Feel weird about talking to your camera for a cool instagram story? DO IT! OWN IT! Who cares? Anyone who follows my instagram knows I do it all the time.
Guess what? When you're long gone and you got that amazing pic or video you wanted you'll be so happy you took the shot!
9. If You Get Anxious, Just SMILE & Enjoy It!
I think the main thing to remember when you're traveling alone is to enjoy every bit of this amazing experience.
Find yourself completely lost?
Stop into a pub. Tell them you're kinda lost. Sit and have 8 beers while the bartender tells you her life story.
You catching my vibe?
GO WITH IT.
Don't stick to some ultra packed itinerary that has you rushing around a city that you should be savoring every second of.
Don't sit in a corner staring into your coffee when you could sit at the bar starting conversations with the locals about where their favorite hidden gem is.
Take out your phone! Record a cool instagram story. Include the people around you. Ask them to take a picture of you.
When they inevitably ask you where you're from and find out you're solo traveling you. will. be. a. hit!
Trust me.
And when the two Australian girls sitting across the table from you tell you that you should take some pics together to make your buddies back home jealous, take out your camera, thank your lucky stars, and be so glad that you weren't afraid to travel the world alone.
It's the best way to travel!
Related article at WorkFromYourLaptop.com!
Final Thoughts
Have these tips for traveling the world alone given you some inspiration to finally take the leap?
Are you still asking yourself "Should I travel the world alone?" or has it morphed into "When can I book my next flight?!"
What are the best travel adventures you've taken? Still have some questions you need to ask me before you take the plunge?
I wanna hear them!
Leave any questions or comments you have in the comments section below! I always respond to them and I look forward to hearing your story!
Recent Posts