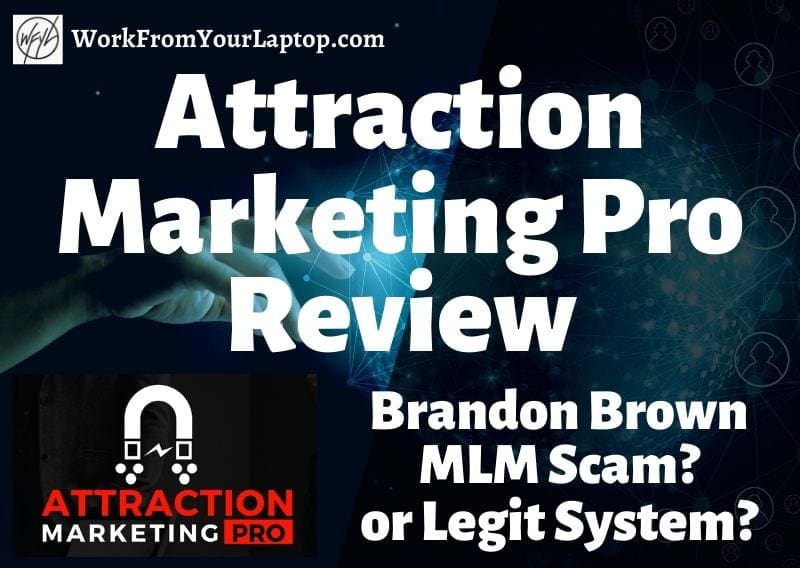 Have you seen Brandon Brown's Attraction Marketing Pro circulating around Social Media? This Attraction Marketing Pro review is going to show why you should stay away from this bizarre network marketing scheme. Is there a Brandon Brown Scam here?
If you're like me, you're tired of seeing similar pyramid schemes all over the internet. They make unrealistic promises and have so many red flags it'll make your head spin.
They tend to have very high ticket price tags attached, and when people finally realize that the promises aren't going to deliver, it's too late and they're out substantial money.
What's even more bizarre about Brandon Brown's Attraction Marketing Pro is that it is almost a MIRROR IMAGE of a scheme I reviewed just a few weeks ago called Easy1Up. They have the same number of training modules, same individual module pricing, and the same convoluted, confusing compensation plan.
Put Schemes Like this Behind You! Get Started Free With the Best Affiliate Marketing Training Online!
---
Let's take a look at why you should stay away from this MLM training scheme. I'll detail the pricing, its bizarre compensation plan, and peel back the layers so you can get past the smokescreen of training and see it for what it really is.
Attraction Marketing Pro Review – Brandon Brown Scam or Legit MLM Tool?
Watch the video below and see why Attraction Marketing Pro unfortunately falls into the category of scheme that you should stay away from. See why the training inside its video modules isn't nearly as important to this system as the inflated price tags and ridiculously high "administrative fees" associated with each.
---
---
What is Attraction Marketing Pro?
Attraction Marketing Pro is Brandon Brown's MLM training platform geared towards network marketers. It is composed of 6 video training modules that teach attraction marketing. Once a part of the membership, members will promote the video modules and earn commissions based on an MLM style compensation plan called the Reverse 1UP System.
Unfortunately, it appears that the training inside the modules is really used as a smokescreen to cover up a bizarre, convoluted compensation plan riddled with red flags and unrealistic claims.
What Does Attraction Marketing Pro Cost?
Cost ranges from $25 – $2000. Each video module also has an increasingly large "administrative fee" attached. For example, purchasing the $2000 module will actually cost you $2500 due to the $500 "administrative fee".
There is also a monthly $49.99 Inner Circle licensing fee you'll have to pay if you want to be able to earn commissions. A $10 fee is paid to just be a "student", meaning you will have access to your products but will be unable to earn commissions.
Is Attraction Marketing a Real Concept?
Attraction marketing itself is a valuable concept that every entrepreneur should be practicing. It involves taking the focus off selling, and instead, giving value to the customer or target audience in an effort to give them the best user experience possible.
In doing so, you ultimately bring value to yourself. Your target audience now sees you as someone who can help them achieve their goals and is now attracted to anything you're trying to market to them.
If Brandon Brown's Attraction Marketing Pro was all about teaching attraction marketing and applying it to your business to take it to the next level, I'd agree that it would be a spectacular platform to be a part of.
However, it's less about applying these concepts to your business, and more about selling overpriced video training modules where the actual positive training inside the modules is almost an afterthought.
Red Flags & Unrealistic Claims
---
---
I really hate seeing unrealistic claims being made in high ticket platforms that prey on the desperation of their unsuspecting customers. Most of the time, people know better. But when desperate for success, even the smartest minds will go against their better judgement.
The first red flag is found on the very front page of the Attraction Marketer Pro website under "Frequently Asked Questions".
"How Many Hours Per Week Do I Need?"
The commitment required for this course is 1-2 hours per week.
I want you to ask yourself a simple question. When is the last time you were ever successful with any venture where you only gave 1-2 hours per week of effort?
Further, when's the last time you ever even heard of anyone who was successful with any business venture in any niche who only gave 1-2 hours per week of their time to it?
The answer is NEVER.
It is impossible to be successful in any business venture where you're only giving 1-2 hours per week of your time. Period.
Also, it's important to note a complete contradiction in this same FAQ's section. The question is posed, "Do you have split pay options?" to which the answer is a clear "No we don't. All payments must be made in full…" But then just two questions later, "Do you have finance options?" is given an answer of "Yes…"
Lastly, when you have a platform like this with a confusing compensation plan, overpriced modules, and unrealistic claims, it's very important to note whether there is a refund available with the purchase.
In the case of Attraction Marketer Pro, there is no refund, and all sales are final. This means your safety net is gone, and you could easily be out $2500.
A Look Inside the Attraction Marketing Pro Video Training Modules
---
---
While these video training modules contain substantial training, they're simply not worth the inflated pricing.
After seeing the exact same scheme on another platform, it's clear that what's inside the training isn't as important as the pricing itself to make the compensation plan work.
Each module includes all the lesser priced modules before it.
Silver Package – $25 (admin fee +$10)
Attraction marketing master class
Customer avatar master class
The preliminary module gives an overview of what attraction marketing is along with an introduction into what your dream client's characteristics, or avatar, should be. It's explained that you should only have the right people join your team and that these people should show their value to your prior to joining.
While it's nice to have training on the characteristics of who should join your team as a network marketer, in my experience I've yet to see any network marketer ever turn down anyone interested in joining their MLM. If someone expresses interest in joining, they are enrolled as fast as possible before they change their mind.
Gold Package – $100 (admin fee +$25)
Facebook lifestyle branding
Profiling itchy buyers
5k friends in 60 days
how to get 5-10 appointments per day
how to create an attraction marketing post
Facebook and Instagram stories recruiting
If this package actually delivered on what it's promising here, you wouldn't need anything else. 5000 new leads to grow your business? 5-10 appointments per day?
The fact that there's more packages after this gives you the idea that this module doesn't deliver at all the way you'd think it would. As we proceed you'll notice more and more filler and freely available info that you could easily get on your own.
Titanium Package – $250 (admin fee +$35)
One call closer big picture
Buying Triggers Blueprint
One call closer word for word script
One call closer objection handling secrets
One call closer financing secrets
Platinum Package – $500 (admin fee +$60)
Facebook live recruiting big picture
Fan page optimization strategy
Set up a branded Facebook fan page
Facebook live recruiting events
Relationship Facebook live strategy
Likes campaign strategy
Facebook live retargeting ads
Facebook live camera equipment
Facebook live content creation
Facebook live camera equipment? Seriously? You don't need anything but a phone to go Facebook live. Everyone knows this and to have this filler as a highlighted point inside this module is bizarre.
Diamond Package – $1000 (admin fee +$110)
Dream client blueprint
Signature course
Webinar funnel
Selling webinar
Membership site
Website set up
Payments and affiliates
Customer support
The "Dream Client Blueprint" sounds eerily similar to the Customer Avatar master class. Also, you have to pay for the $1000 package to finally get customer support?
AMP – $2000 (admin fee +$500)
4 part video series funnel
Lead capture page
autoresponder set up
Content creation machine
Team membership site
Virtual party blueprint
A.M.P. strategy session funnel
A.M.P. virtual phone team blueprint
The Convoluted, Confusing, Bizarre Attraction Marketing Pro Compensation Plan
---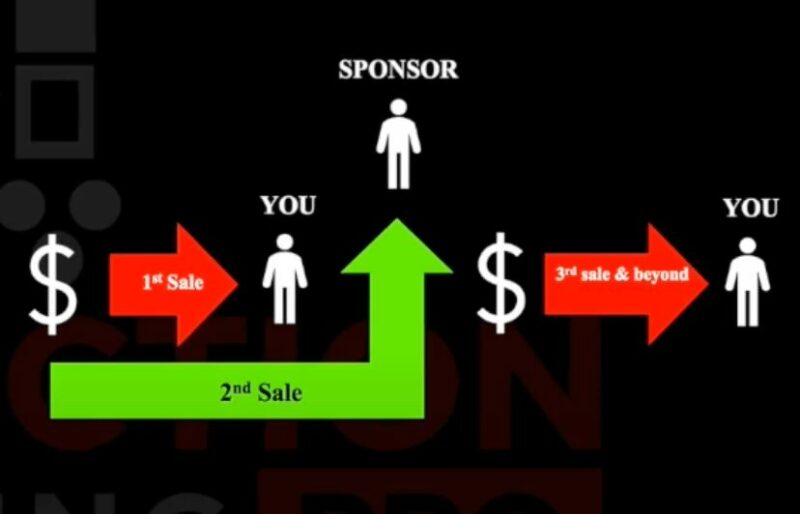 ---
Does that image look slightly confusing? Don't worry, it is.
The Attraction Marketing Pro compensation plan is based on a system called the "Reverse 1 Up." In this system, you can make as many direct sales as you like, earning 100% commissions for each sale (minus the admin fee that goes directly to Attraction Marketing Pro).
Your second sale goes to your sponsor, or the person who introduced you to this system. Every person you enroll into the system will also start to make sales, and as their sponsor you'll receive all the commissions for each person's second sale.
So, for example, if you're selling the $2000 AMP package, the $500 admin fee that comes with it goes to Attraction Marketing Pro immediately. $2000 then pays directly to you. It doesn't go to Attraction Marketing at all.
If I'm buying something from someone and only a portion goes to the actual company that built the program, while a hugely inflated amount goes directly to the salesperson's pocket, I'd find this a bit shady. Questions like, "If this is only worth $500 and I'm paying that to the company, why am I also paying you $2000?" come to mind.
The fact of the matter is that this kind of compensation plan typically implodes on itself. It is increasingly difficult to find someone who will pay this amount of money into a scheme like this.
Check out this short video if you want to see this compensation plan in action. The narrator actually starts off the video stating that this is the most lucrative compensation plan on the planet. Since I'm not sure which planet she's from, I'm not going to call that a lie.
---
---
If you're out $2500 having bought the AMP package yourself, you're now becoming desperate to find a buyer and atleast get $2000 back. Most won't, and the entire plan stops there.
If you were to get very lucky and find even 1 buyer, the last thing you're going to do is continue selling. Why? Because your second sale doesn't even go to you. It would just put another $2000 into the pocket of the person who got you into this whole mess.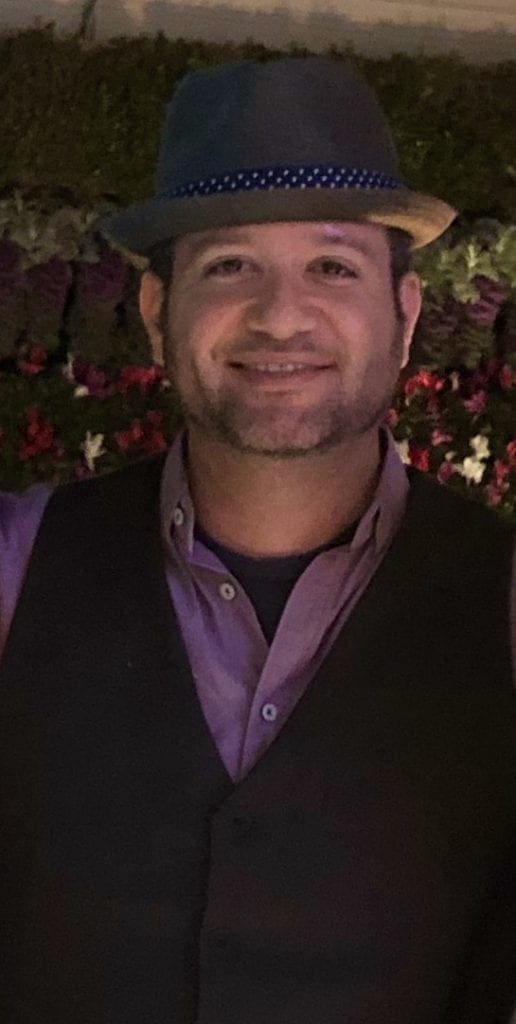 Brandon Brown's Attraction Marketing Pro is a network marketing scheme with a bizarre compensation plan and business model at its core.
The more you peel back the layers, the more you find that the attraction marketing training found inside the video training modules seems to be more of a smokescreen to cover up all the red flags.
Unrealistic claims that you only need to commit 1-2 hours per week to be successful, along with the no refund policy, cement this program into the category of "avoid at all costs" if you'd like to hold on to your hard earned money.
If you're looking for a much more straightforward way to make money online, put schemes like this behind you and check out my top recommendation for anyone looking to get started with affiliate marketing. The training is thorough, eye-opening, and I've had nothing but a positive experience with it.
Feedback, Follow, and Subscribe!
I hope you enjoyed this article! Please follow me on Instagram and YouTube! If you have any questions at all, leave them in the comments section below. I always respond, and I look forward to connecting with you!
---