Mindset. Most people spend their entire life thinking like an employee when they should be learning how to think like a millionaire. You'd probably agree that working 40+ years of your life for someone else only to retire at 40% of what you were making is a FAILING business model. So why do so many people accept it? It's time to ask, "What is the New Rich?"
It's important to understand that if you follow what everyone else is doing, you'll find yourself in the same hole everyone else is in. Is that where you want to be? Or do you want more? To think and act like an entrepreneur one must be willing to take action.
Learn How to Build Your Own Website That Brings Full Time Revenue Now!
---
What if I told you that people all over the world are thinking like the New Rich and becoming their own boss through online business? It's true. In this age of the internet we now have the tools and training to build for ourselves and truly work from home or anywhere in the world!
In this article I'm going to show you what is the New Rich and provide you with the resources so you can understand how to make money affiliate marketing. If you're tired of working for someone else and want to join the New Rich and learn how to turn your passion into consistent monthly revenue, then this article is going to be an eye opener.
What Is the New Rich 2018? – Can Affiliate Marketing Be a Career?
As I said at the beginning, it all starts with mindset. A while back, a good friend of mine recommended I read the book "The 4 Hour Workweek" by Tim Ferriss. What an eye opener this was.
So many people get caught up thinking they have to work more and more and more, right? Yet this book argues that you can actually work LESS and create more time freedom for yourself AND be successful. Already my mind was blown.
But this book isn't about cheating a system. It's about real work. It's just that when you quit working for others and work for yourself, the success you can build is off the charts. It just requires the right mindset, the right tools, and the right training.
The book covers so many tips and strategies for working for yourself along with life hacks that you'll think you've been doing life wrong all this time. I can't recommend it highly enough. If you don't have it, it's definitely worth the read. Get it here off Amazon and thank me later.
---
Get the 4 Hour Work Week on Amazon
---
Now why do I bring up this book in this article? It's because through this book I was introduced to the New Rich. Let's start with the definition of the New Rich using Tim Ferriss' words:
The New Rich (NR) are those who abandon the deferred-life plan and create luxury lifestyles in the present using the currency of the New Rich: time and mobility." – Tim Ferriss
Deferred Life
That's powerful. And when you think about it, it's what so many of our loved ones buy into. How many times have you talked about the things you're going to do when you retire. I'll travel the world when I retire. I'll start my own business and be my own boss when I retire.
Dreams are what make a life, so why are so many putting off their dreams when they can live now?
It's because the majority of people follow the status quo. Plain and simple. We overwork ourselves, build lots of debt, and then work until so late in life that these dreams we put off are no longer doable.
The New Rich don't think like this. They beat the retirement myth, retiring young and retiring rich by dismissing this outdated concept of deferred life. They don't stop working, they simply go into business for themselves and create the time freedom and mobility freedom that so many work so hard for and never seem to grasp.
Time and Mobility: The Currency of the New Rich
Everybody shares the dream of being financially independent. But have you ever wondered why? Is it because we all love money? No. It's because we all want financial freedom and time freedom.
Isn't that the real goal here? I mean, what's all that money good for if you're a slave to your job, right?
How ironic is it that to achieve our goal of providing for our loved ones, we spend so much time away from them. All our time is spent away, working for someone else, and if we're lucky we have a good weekend now and again doing whatever we want.
That's 2 out of 7 days. That's a raw deal.
The New Rich realize that time, mobility, and earning income can all overlap. Tim Ferriss knows this and speaks to it in his book. Anyone who has read it and is looking to be successful will agree. The key to having time, mobility, AND money is to be in business for yourself with a business that has mobility and can come with you.
What is the New Rich 2018 – Stop Thinking Like an Employee and Be Your Own Boss With Affiliate Marketing
When I read this book, the idea of an online business as my way to be my own boss really spoke to me. I wanted something straightforward, where I didn't have to depend on recruiting or downlines. I wanted to be in business for myself and no one else.
Truth be told, I have extreme wanderlust. I want to travel this world and see everything there is to see and experience every bit of culture I can. After learning about the new rich and the entrepreneurial mindset it takes to succeed, I started doing research into how I could make money with affiliate marketing.
I researched several training platforms that all promised results. Many, however, were just get rich schemes with promises of revenue without work. Those kinds of claims should raise red flags, and they did. A number of these platforms seemed way more focused on emptying my bank account instead of helping me succeed.
Others promise making money by doing "fun and simple" tasks, but earn so little revenue they're not worth your time.
It's amazing how many people will believe the hype that pouring money into a "done for you" model will create a successful business around you without you doing any work.
Real Business Takes Work, But Working For Yourself Brings the Most Rewards
And then through all my research I found my answer and found a training platform and mentoring community that delivered. With a successful track record of over a decade in business with active members from all over the world, I found what I was looking for.
The community is filled with like minded individuals with the same goals, and the training spoke to me. And what absolutely caught my eye? I could take it for a free test drive first to see if it was for me.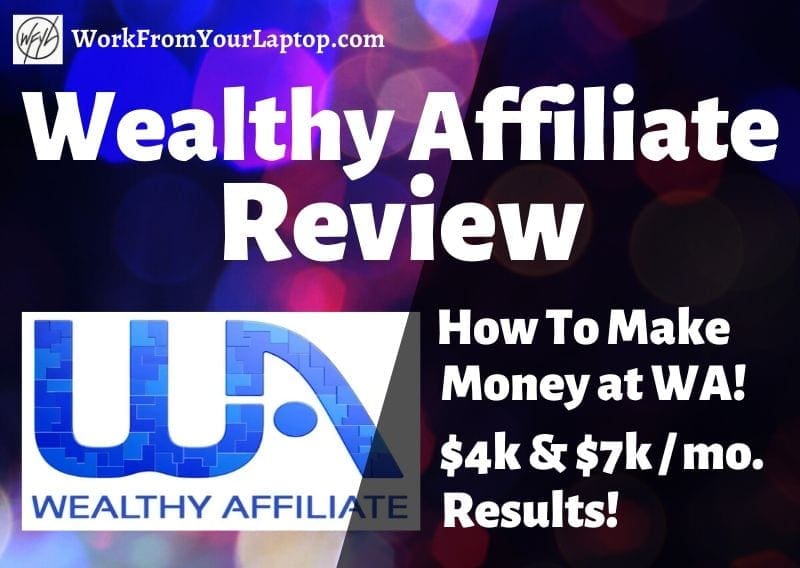 Read My Full Wealthy Affiliate Review
See why Wealthy Affiliate is my top recommendation for anyone looking to get started earning fast in affiliate marketing. Check out how it all works and see my personal results!
---
So Here's How It Works:
Their training tackles the 4 critical steps to building a successful online affiliate marketing business:
No more deferred life.
---
---
Feedback, Follow, and Subscribe!
Do you have a better understanding of what is the New Rich? The New Rich are people just like you who are applying the principles of being their own boss and taking their life back for themselves. You have got to believe you can to.
What questions do you have for me? What hurdles have you faced in your experiences with separating from the pack? Feel free to share your story in the comments below. Ask me any question you've got and I'll gladly respond.
Feedback, Follow, and Subscribe!
As always, please like and share this article to your social media platforms. If you have any questions at all, please leave them in the comments section below. I always respond, and I look forward to connecting with you!
---