Do you know how to work from your laptop? Most people think they do. But the laptop lifestyle so many people seek is much more than pulling out your laptop for a quick hour or two at Starbucks.
The laptop lifestyle people are looking for involves calling the shots and being your own boss. That's the sexy side atleast. But to get there you have to be willing to put in the work.
Learn How to Build Your Own Website That Brings Full Time Revenue Now!
---
So how can you achieve this laptop lifestyle? Are there training courses you can take? Is there a map of steps involved to achieve this goal? How can you build a website that earns revenue? What does it take to truly understand how to work from your laptop full time? In this article I'm going to cover exactly what it takes to achieve this goal and how to create your own online business that brings in full time revenue.
How To Work From Your Laptop – Do You Have What It Takes?
First of all, where do you start? That's actually the part people need the most help with. If you're like me you see different "opportunities" floating around online, but they all seem like schemes.
Never trust any system that claims to be "Done For You". No business, traditional or online, will ever work if you only put in 10% of the work.
I've reviewed a few Done For You systems in the past that claim to do 90% of the work for you. My AWOL Academy review is one of them. But you're smart enough to know that anyone looking to work from their laptop needs to understand that the "work" part is not a figure of speech.
Or maybe you've seen a few multilevel marketing opportunities that caught your eye. While there's nothing wrong or illegal about MLM's and network marketing opportunities, in my experience they just aren't sustainable.
If you take a look at the Annual Income Disclosures for every single network marketing business you'll see that the vast majority of network marketing reps, sometimes as high as 70-80%, don't actually earn a dime.
It's very hard to build a team to MLM success when the majority are failing.
So what's the best route to take when it comes to creating an online business of your own? In my experience, hands down, bar none, the most sustainable approach to building a successful business online is through affiliate marketing. Let me show you why.
What Is Affiliate Marketing & How Does It Work?
Affiliate marketing is simply the way most online business gets done. You've probably been a part of the process for years without even knowing it. So what is affiliate marketing?
Affiliate marketing is the process of connecting people with what they're already searching for online.
Here's a common scenario. You're looking to buy some new gadget for your next trip. It could be anything; a camera, a neck pillow, a universal adapter… anything.
You make a google search to find a review. Google gives you a list of search results and you click on one that was on the first page. You see all its specs and what other people have to say about the product. For this example, let's say it's a camera you're looking to buy.
The review is thorough, has lots of pics and video, along with pros and cons. All in all, it's exactly the kind of info you were looking for, and right there in the review at the very bottom is a link to buy the camera from Best Buy.
You click the link, make your purchase through Best Buy's website, and a week or so later you have your camera in hand. This is a very common scenario that most people have gone through before making a purchase. So where's the affiliate marketing part?
The affiliate marketing part came in the form of that review. The reviewer took the time to write a thorough review that could lead you to the product you wanted to buy, in this case a camera sold at Best Buy.
The link you clicked through to make your purchase is called an affiliate link. And because you went through this reviewer's affiliate link, the merchant (Best Buy) will now give a commission to the reviewer who helped make this purchase happen.
How to Work From Your Laptop – Getting Started with Affiliate Marketing
As I stated at the beginning of this article, the internet is filled with online opportunities and training platforms promising to all be the best for what you need. So how do you find one that actually delivers?
Thankfully, there are several great affiliate marketing training courses you can get online without emptying your pocketbook. I've put together a list here that you can check out. They are all solid, have great reviews, and will definitely get you started on the right foot.
"Yes but which one did you personally use to get started?"
I get asked that question a lot. My top recommendation, hands down, is the training community I'm currently a part of and have been for the last couple of years: Wealthy Affiliate. Whether you're a newbie or someone with experience, the tools and resources there can't be beat.
---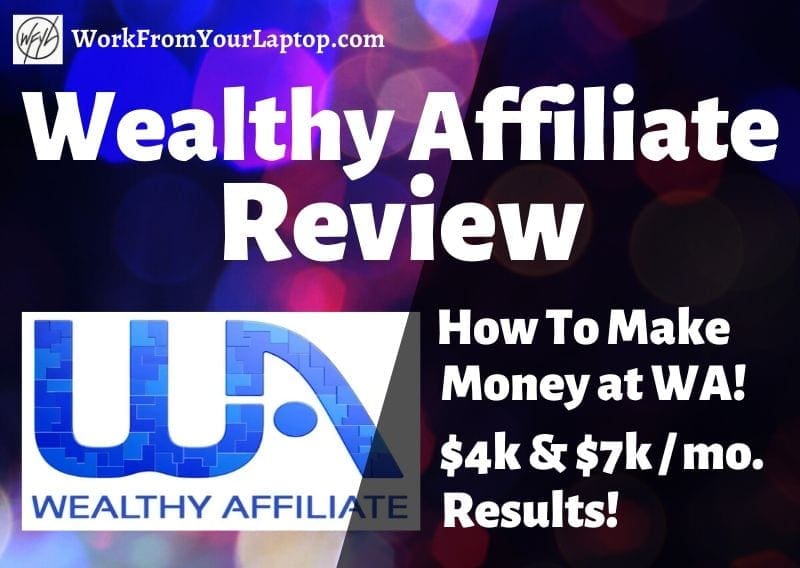 Read My Full Wealthy Affiliate Review
See why Wealthy Affiliate is my top recommendation for anyone looking to get started earning fast in affiliate marketing. Check out how it all works and see my personal results!
---
The 4 Attributes of Successful Affiliate Marketers
A good friend of mine wrote this article. I felt it was important enough to share it here as well. If you're looking to work from your laptop and be your own boss, your focus needs to be in the following areas:
Don't focus on revenue in the first month
Understand that you are building a BUSINESS
Give yourself adequate time to succeed
Approach your business like every other achievement in your life
Don't Focus on Revenue in the First Month
I get it. We all want results. We all want them now. Unfortunately, that's not how the world works. I've worked with hundreds of people personally over the last few years getting them started with affiliate marketing. In that time some patterns emerge.
Just as Kyle states in his article, those who are successful in online business are not as fixated on making money in their first month as they are intrigued by the business model and making it work for them.
Having the right entrepreneurial mindset can be the real difference between being a success and falling short.
Treat your training the same way you would a college course. Be a sponge and make your focus learning and building. Commissions come later.
Understand That You Are Building a Business
One of my arguments against network marketing opportunities is that they are simply that: an opportunity and not a business. Yes you can make a quick buck in the short term with MLMs (if you don't mind drinking the kool aid, doing lots of recruiting and attending lots of home meetings). But they simply are not sustainable for the long term.
With affiliate marketing you have a true BUSINESS on your hands. Don't shortchange yourself by turning this into just an opportunity. Your website can be built in any niche you're passionate about and there is no ceiling to what you can earn. This is one of the key factors to succeeding with Wealthy Affiliate's training.
Wealthy Affiliate provides you with countless tools and services to grow. Those that succeed realize this and take full advantage of every tool and resource available.
They build websites. They leverage the training. They join in on the live classes. They ask for help when they need it, they help others when they can pitch in.
Give Yourself Adequate Time to Succeed
How long does it take to succeed with online business? The short answer: "As much time as it takes."
There are an infinite number of variables that go into success with your online business. For some, success comes in the first few months. For others, it could take a couple of years. This is true with traditional brick and mortar businesses too.
I was able to have a $4k month in my first year with my business. But let's say it had taken a couple of years to achieve that. Would it be any less worth it to be earning thousands per month? Of course not. No matter how long it takes, your success is worth the effort.
The fact of the matter is that those who succeed understand that when they put in the work, success is inevitable. Be stubborn with your success! Don't stop UNTIL YOU SUCCEED!
Approach Your Business Like Every Other Achievement In Your Life
Think about everything you've succeeded at, both large and small. Think about the work you put in to achieve those successes. Did you always succeed right away, or did it take work? Did you succeed after working through failures along the way?
Treat your business the same as you have other challenges. Take the pressure off by understanding it's a process.
When you're building something that can give you financial freedom there are plenty of ups and downs along the way. There will be highs and lows. There will be days you're motivated and days where you're not. This is COMPLETELY NORMAL and a critical part to succeeding.
What does it take to understand how to work from your laptop? First, it takes the right training. Why double or triple your workload by following a business model that isn't sustainable? Simplify your work, trust the training that delivers, and never look back.
Once you're on the path to success, DON'T GET IN YOUR OWN WAY! Understand that real businesses take time to build. Don't focus on revenue in your first month. Give yourself the necessary time to build and learn. Push through failures and treat them like building blocks to your success.
Do these things and you'll be living the laptop lifestyle with a successful affiliate marketing business. You will succeed and know what it is to be your own boss and work from your laptop.
---
---
Do you now have a full understanding of what it takes to work from your laptop? What challenges have you faced in your own personal journey? Let me know in the comments section below!
Are there any aspects you feel like I've left out? What's your favorite attribute from those I've listed? Chime in below. I always love hearing your experiences and I always respond.
Feedback, Follow, and Subscribe!
As always, please like and share this article to your social media platforms. If you have any questions at all, please leave them in the comments section below. I always respond, and I look forward to connecting with you!
---
---