The internet is nothing without links. It's how this entire network stays connected and a great way to connect your readers to more relevant content. Most are familiar with creating basic text links, but do you know how to turn an image into a link in WordPress?
Having the right balance of internal, external, and backlinks can help you rank high in Google searches. Similarly, using relevant images can create a better user experience to bring you more traffic. Using the perfect blog post structure leads to higher conversions. It only makes sense, then, to combine these strategies and learn how to turn an image into a link.
Build Your Links Into a Professional Website That Brings Full Time Revenue Now! Get Started Free!
---
In this article (with video), I'm going to walk you step by step through this process of how to turn an image into a link. I'll cover the different types of links you can create with your images in WordPress and how to implement them. With this tutorial you'll not only master how to turn an image into a link in WordPress, but you'll fully understand the different options WordPress gives you while doing it.
How to Turn an Image into a Link in WordPress
If you're like me, you're a visual learner. Welcome to the wonderful world of video! Watch the following short video tutorial and I'll show you the options WordPress gives you to choose from when turning your images into links. With a full understanding of how to turn your images into clickable links in your posts, you'll be able to use whichever option suits you the best.
---
---
First, if you want to know how to turn a picture into a link you'll need to add some images into your content, right? Use the "Add Image" button in the WordPress post editor to choose one from your media library or upload a new one.
Make sure you either manually optimize the image or have a plugin that does this automatically so you keep your site running lightning fast.
If you're running Gutenberg, after adding an image into your post all you have to do is click on the image block and your linking options will show up in the right sidebar.
If you're running the Classic WordPress editor, once you've placed your image into your content, click on it to begin the process of turning it into a link. Clicking on the image will pull up some options like whether you'd like the image centered, or left or right justified, along with an option to edit. Click on the pencil icon to edit. This opens the Image Details window where you can add a caption, alt text, & edit the image's alignment and display size.
As shown in the video, what we're going to concentrate on is the "Link to" pull down menu. Clicking on this gives us 3 options: Media File, Attachment Page, and Custom URL. Now, let's cover what each option means so you can choose the best option for yourself as you make an image a clickable link.
Turning an Image into a Link in WordPress: Media File Option
Using the Media File option will give the reader a more detailed look at your image. Let's say you'd like your reader to be able to click on an image from your post and then see that image full size. This would be a great option to use.
It's very easy. You simply click on the Media File option in the "Link To" dropdown menu, save, update and you're done! Now when your image is clicked, the reader will be taken to the image's media file which will allow them to see the image at full size.
Click on the image below to see an example of what happens when using the Media file option.
Attachment Page Option
The Attachment Page option is the least used option of the three. When you select the Attachment Page option, the link will take your reader to a page dedicated to the image. It's no different than if you created a page on your website and placed only the image on that page.
Custom URL Option – The Most Popular Use of Image Links
Most people want to learn how to turn an image into a link in WordPress so they can direct the reader to another url. The Custom URL option is another creative way to create internal and external links without using common anchor text links.
If you're using the Classic WordPress editor, from the edit screen simply choose the Custom URL option from the "Link To" dropdown menu and enter the url you'd like to direct the reader to. This is shown in the image below.
Once you've entered it in, save and publish and you're done.
If you're running Gutenberg all you have to do is click on the image block and then go to your Link Options in the right sidebar and select Custom Url from the drop down menu.
This is shown in the image to the right.
Now, when your reader clicks on the image, they will automatically be taken to the url you typed into the custom url field.
As an example, click on the photo below that I've turned into a custom url image link. You'll notice that it will now act as an external link taking you directly to my instagram post of the same picture.
Also note that with any of these 3 options you can choose to open the link in a new window. Simply open the Advanced Options when choosing between Media File, Attachment Page, or Custom URL. Click the "open link in a new window" box and you're set. This option is great because it doesn't take your reader completely away from your content.
Both of my examples above for the Media Link and Custom Url option use the "open link in a new window" option.
Summary
Understanding how to turn an image into a link in WordPress is a great way to creatively connect your readers with more relevant content. If you have a travel blog or a blog featuring your photography, you can use the Media Link option to give the user a great detailed look at your photography without having to embed full size images into the post itself.
You can also use the popular custom url option to turn images into clickable links that connect your readers to more relevant content. This can add a bit of flare to the normal text based links we're all very used to seeing.
Building your site right is a process. You first need to build on the right platform and understand exactly how to target those most popular searches your audience is looking for so you can get the most traffic.
There are also proven ways to structure your blog posts for maximum engagement, and strategies like embedding video which will keep eyes on your page longer.
And what's the point of all this? Do we just want to arbitrarily build traffic? Of course not. What we want to effectively do is turn that traffic into an opportunity for real revenue.
If building revenue from your website is something you'd like to make a reality, I suggest you take a good look at the online community where I got my training. Watch real traffic build as you surround yourself with likeminded individuals looking to help and support you along with the best training I've found online. Create your free account through the link below and start now with my as your personal support coach! I hope to see you on the inside!
---
---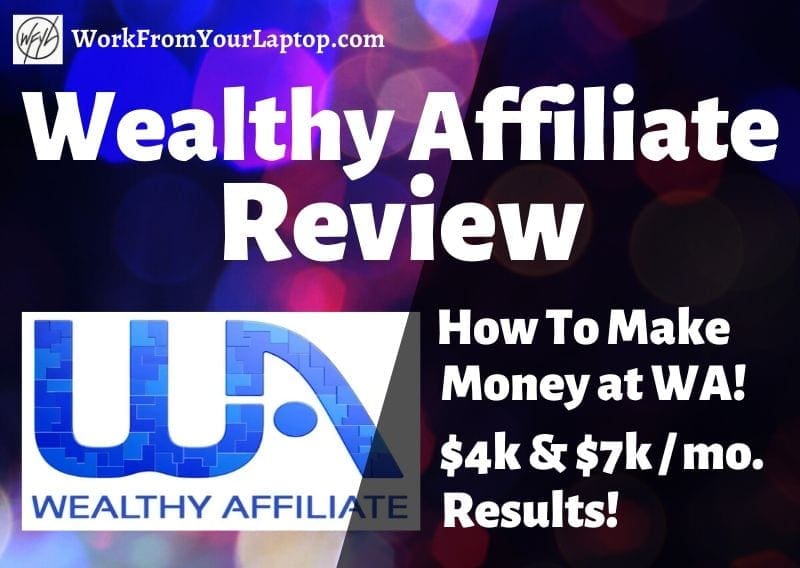 Read My Full Wealthy Affiliate Review
See why Wealthy Affiliate is my top recommendation for anyone looking to get started earning fast in affiliate marketing. Check out how it all works and see my personal results!
---
Feedback, Follow, and Subscribe!
Has this article helped you to better understand how to turn an image into a link in WordPress? Which of the 3 options are you leaning towards using? Leave any questions and comments you have in the comments below and I'll be glad to answer them. Helping people build websites and build an online business around their passion is what I enjoy doing. Don't hesitate to reach out. I'm always happy to offer any insight I can.
Feedback, Follow, and Subscribe!
As always, please like and share this article to your social media platforms. If you have any questions at all, please leave them in the comments section below. I always respond, and I look forward to connecting with you!
---