In the age of the internet, you know longer have to own a brick and mortar shop to be the proud owner of a successful business. More and more people are learning how to sell products online from home and are becoming their own boss.
Most of us are familiar with sites like eBay and Craigslist along with others like Zazzle and Etsy. But with sites like those, your products can get lost in the competition. Also, what about those of us who don't have products of our own to sell?
Get Started Selling with ZERO Competition With This Free Start Training!
---
In this article I'm going to show you the most profitable way to sell products online from your own website with ZERO competition, even if you don't have products or services of your own!
And don't worry if you've never built a website before. I'll connect you with the same training platform I used to create my first website that earned a $4k month in my first year and a $7200 month in my second. I'll even show you how you can get started free today.
In this article, you're going to learn all about:
How to Sell Products Online From Home With Zero Competition
Let's get into some Selling Online 101. If you're looking to become an online entrepreneur, selling online isn't nearly as difficult as you may think. It's actually very straightforward. The main steps towards being successful and profitable in online business are the following:
Choose a profitable niche
Build a website
Attract visitors
Earn revenue
Choosing a profitable niche
If you're going to be selling consistently, then you need to start with choosing an interest, or choosing a profitable niche. Choose something specific that you have a genuine interest in.
It's not all about finding the most popular products to sell online. Instead, when you focus on a niche that you have a genuine interest in it makes it that much easier to understand what your audience is looking for. It instantly places you in your own target audience and makes it that much easier to write quality articles for your website.
Another key is to be specific with your niche. A niche like "basketball" is much too broad. But a niche like "Basketball shoes for teenagers" narrows your niche down to one that is very manageable.
Don't try to be everything for everybody. It wouldn't make sense to your audience if you started promoting camping equipment, photography equipment, and cell phone accessories all from the same website, right? Remember, you're not Amazon!
When you create a website around a specific niche you'll get a much higher percentage of conversions because people arriving at your site are finding exactly what they're looking for. 
And remember, you don't need products of your own to sell. How can you make money online when you don't have products or services of your own? This is where affiliate marketing comes into play.
Connecting people with the products or services they're already looking for from trusted merchants like Amazon, Best Buy, Target, and others can be EXTREMELY lucrative. More on that in a second…
Building a Website
Now, while popular sites like eBay and Craigslist are available to sell stuff online, they are also filled with competition. Any items you place on those sites can be lost in a sea of similar items in a heartbeat.
This is where doing business on your own internet real estate comes into play.
When you build your business on your own website you are in full control. You can choose how items are displayed & you completely eliminate competition being shown in the same space. Further, you can choose any number of ways to monetize all your traffic that's coming in.
Commissions and website earnings don't just come from sales. In fact, the most profitable websites earn revenue not only from people who make purchases on their site, but even from people who show up and actually leave the site!
You can earn revenue through relevant ads placed on your site, building an email list, creating a sales funnel, and more.
Attracting Visitors
Traffic is the lifeblood of any online business. Many training platforms will focus on buying traffic. But the true key to building traffic that continues to grow for a sustained period is in learning how to build organic, free traffic.
Steps can be taken to get more traffic to your content, but at the core of building traffic is doing good keyword research.
Understanding the power of keywords is how you drive massive traffic to your website organically.
Keywords are the words or phrases that people type into search engines. What if there was a tool that allowed you to know the exact keywords your target audience was making? There is and it is fully integrated into the mentoring community I'm a part of! Utilizing this keyword research tool is the equivalent of knowing exactly what your target audience is looking for.
When you know exactly what your audience is looking for you can then create content that is the answer to their most popular searches! Further, a great keyword tool will not only show you popular keywords but the ones with the least amount of competing websites targeting them. This means you're getting high traffic with minimal competition and this leads to massive conversions!
Earning Revenue & Getting Consistent Conversions
Once you have consistent traffic, consistent commissions and monthly revenue follow. If you're selling your own products or services, this is pretty straightforward. However, how does one get commissions through affiliate marketing?
Through affiliate marketing you partner up with trusted merchants and then connect your target audience with those popular products they're searching for. You're basically selling products online for companies and this is VERY lucrative. Everytime they make a purchase, you get a commission. So how does this work exactly?
The process is actually one you've probably participated in many times without even realizing it. Let's say you're wanting to buy a camera. You make a Google search looking for a review of that camera. You find one you like, you read through it thoroughly, and at the end you click on the link that allows you to buy it from Amazon.
This link you clicked on is an affiliate link. When you buy through that link, the reviewer who wrote the article gets credit for bringing you to the merchant.
And when you know the most popular products and searches being made, this process repeats itself over and over and over again. The more traffic you have coming to your content, the more conversions your making.
This is why affiliate marketing is such a lucrative industry!
Putting It All Together – The Training Platform I Recommend Over All Others
Wealthy Affiliate is the platform I recommend over all others. If you're looking to get started in online business, Wealthy Affiliate's training will lead you step by step from absolute newbie to entrepreneur.
You'll learn how to build a website that gets real, organic traffic in whatever niche you choose. And most importantly you'll learn exactly how to monetize that traffic and create consistent monthly revenue. 
Click here to see how Wealthy Affiliate stacks with the best affiliate marketing training courses online.
Why do I consider WA the best? Because I tried it myself.
I'm someone who had no background in online business. I didn't know how affiliate marketing worked, and I had never built a website before. I created my starter account with Wealthy Affiliate and I immediately saw the value in what I was learning. That was huge for me. I upgraded 2 days later and never looked back.
I'm proud to say that Wealthy Affiliate's training helped me have a $4k month in my first year. Its straightforward, eye-opening training continued delivering with a $7200 month in my second year. If you're someone who is entrepreneurial minded looking for a good starting point, I can't recommend Wealthy Affiliate highly enough. Create your free starter account and get started today!
---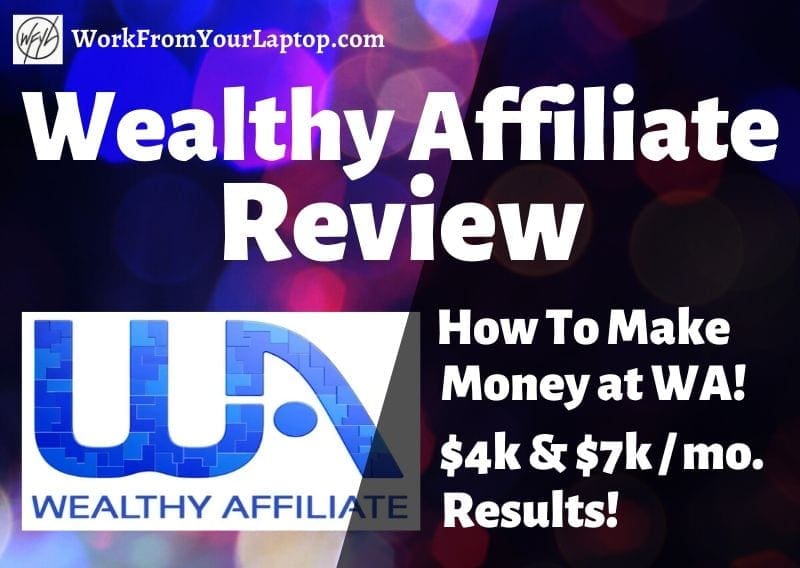 Read My Full Wealthy Affiliate Review
See why Wealthy Affiliate is my top recommendation for anyone looking to get started earning fast in affiliate marketing. Check out how it all works and see my personal results!
---
---
Summary
The key to maximizing your profit online is to create a business on your own website. It's a little like the difference between renting and owning. Doing business on someone else's space limits your control of how your content is displayed.
Additionally, whether you have products or services of your own or whether you're connecting your audience with the merchants they trust, you can monetize your traffic in a number of ways when you build on your own website.
Getting the right training is key. Online business profitability doesn't come overnight. Like traditional business it takes consistency. But when you have the right training and follow tried and true strategies, you can find yourself with your own online business where you're the boss & consistent monthly commissions are coming your way.
How do you feel about this article? Has it been helpful? Do you have a better understanding of how to sell products online from home with zero competition?
Have you ever built a website before? Are you familiar with affiliate marketing? Have you tried selling your stuff on sites like Zazzle and Etsy before? What was your experience like? Got any success stories and/or horror stories to share?
Share your story and leave any questions and comments you have in the comments section below! I love hearing your stories and experiences. I'm always available & I always respond, so don't hesitate to leave a question or a comment.
Feedback, Follow, and Subscribe!
As always, please like and share this article to your social media platforms. If you have any questions at all, please leave them in the comments section below. I always respond, and I look forward to connecting with you!
---