If you're running a blog, chances are you're using WordPress. And if you've ever encountered a slow website before, you know how detrimental that is to building traffic. For this reason it's paramount to know how to optimize images in WordPress and keep your site running lightning fast.
WordPress is the king of the hill when it comes to blogging platforms and supports more than 60 million websites online. And if you build your website right, you have the potential to have massive traffic coming in that can create consistent and full time income!
Learn How to Build Your Own Website That Brings Full Time Revenue Now!
---
It all starts with site speed.
Lesson 1: A slow site is a very, VERY unpopular site.
One of the first things that can slow your site down are non-optimized images. This means your images are simply taking up too much space memory-wise and make your website slow to load.
There are simple ways to optimize your images both manually and through the use of plugins. The less strain on your site, the better. Did you know that site speed is a key factor in your Google ranking? If you're learning how to use Google for profit and build an online business, this is a big deal.
In this article (with video), I'll show you how to add images in WordPress, how to edit images in WordPress, and how to optimize images in WordPress manually to improve site speed and loading time. Then I'll also connect you with my favorite plugin for optimizing images so your website can do all this optimizing automatically.
How to Optimize Images in WordPress & Improve Site Speed
It's all about the user experience. Watch the following video tutorial and I'll show you step by step how to optimize images in WordPress both manually and through the use of plugins.
I'll teach you how to edit and resize your images to bring down their file size & greatly improve the speed of your site. I'll also connect you with my favorite free plugin for optimizing your images automatically so your site will be running lightning fast in no time.
---
---
Adding & Editing an Image in WordPress
The process of adding an image in WordPress is a straightforward one. It's just a matter of getting more and more familiar with the WordPress post editor.
From your post editor, go to Add Media. The button is shown in the picture to the left. You'll find it near the top of the page just below where you enter the title of your post.
If you are using Gutenberg, you will click on the + symbol, add an image block, then click on Media Library, then Upload New Image.
Once you've chosen the picture you want to upload, it will be added to your media library. Once it's in your media library, you can now manually optimize it so it's a smaller file size to help improve your site speed. 
Select the image you want to edit from your media library, and then click Edit Image. You'll find the Edit Image button off to the right where the title and details of the image are displayed in your media library.
Now you can resize the image and also change its orientation. Maybe the image uploaded upside down for some reason. Maybe it's showing as sideways. Computers can be finicky sometimes, but don't worry. This is where you can easily fix small issues like this.
Note that flipping an image on its axis is not the same as rotating it twice. An upside down text image, for example, that you flip on its x axis will be right side up but with reversed letters. To fix an upside down image you would need to rotate it 90 degrees twice.
Resizing Your Images
Now we get to the meat and potatoes part of manually optimizing images in WordPress. The key to a fast loading image is scaling it down in size. 
Reducing the scale of the image not only changes its visual representation on your site, but it reduces its file size as well. Nowadays, if you're using a picture you took with any camera or mobile phone, it's going to be a large, high resolution file.
My iPhone camera, for example, will take pictures with dimensions around 3000 x 4000. While that high resolution is great for a picture you're going to display on your 60″ television, it's overkill for your website.
In my experience, an image with dimensions of 640 x 480 works very well when uploading to your site. It will look crystal clear when displayed on your site, will load much quicker, and take up much less memory space.
This can create a drastic difference in site speed as you begin to use more and more images in each post. Think of this as reducing the strain on your site behind the scenes.
Note that changing an image's display size (thumbnail, medium, large, full size) is not the same as resizing it. You'll need to actually go into the Edit Image area of your picture and change its dimensions if you want to bring down a large file size manually.
Best Plugin for Optimizing Images in WordPress Automatically
Like most people, knowing how to optimize images in WordPress manually is nice, but you probably want your website doing this automatically, right? Editing, resizing, and all that good stuff is good to know, but why not use a free plugin that can do everything for you in the background?
My favorite free plugin for optimizing images in WordPress is called Smush Image Compression and Optimization, also known previously as WP Smush.
The great thing about this plugin is not only will it resize images automatically, but it will also strip hidden bulky information from your images to reduce their file size without losing quality. This is known as image compression.
Smush will meticulously scan every image you upload (or have already added to your site) and cut out all the unnecessary data and scale it down for you before adding it to your media library. It's very user friendly, customizable, and a breeze to have.
This plugin has great reviews, over 1 million active installations, and has worked great for me on my site. There is a pro version available, but I've never needed to upgrade or pay a dime. It does exactly what it's supposed to and I highly recommend it.
A Second WordPress Plugin to Help With Site Speed
While this next plugin doesn't actually optimize your images, it does go hand in hand with image optimization to help your site speed. It's called BJ Lazy Load.
This plugin allows your site to "lazy load" its images as the reader scrolls down and arrives at them instead of trying to load them all at once.
With lazy loading, your posts can load faster since the plugin will load the images at the top of the page first and then load the rest as the reader makes their way down to them.
Summary
Site speed is a critical factor when you're trying to create a great user experience for your website. Slow loading times and lag is a sure-fire way to lose traffic. Now that you understand how to optimize images in WordPress both manually and through plugins, you can reduce the strain on your website and keep it running lightning fast, 24/7.
Are you looking for other ways improve your website?
Build your website right, and you'll not only improve your traffic and user experience, but you'll create a source of revenue for yourself.
It's true. More and more people are using online business to be their own boss and work from their laptop. With the right training, you can make this your reality.
Create your own FREE starter account with the same training community I got my start with through the link below. I'd love to help you in the same way I've helped so many others. I've had nothing but positives from it and I can't recommend it highly enough.
---
---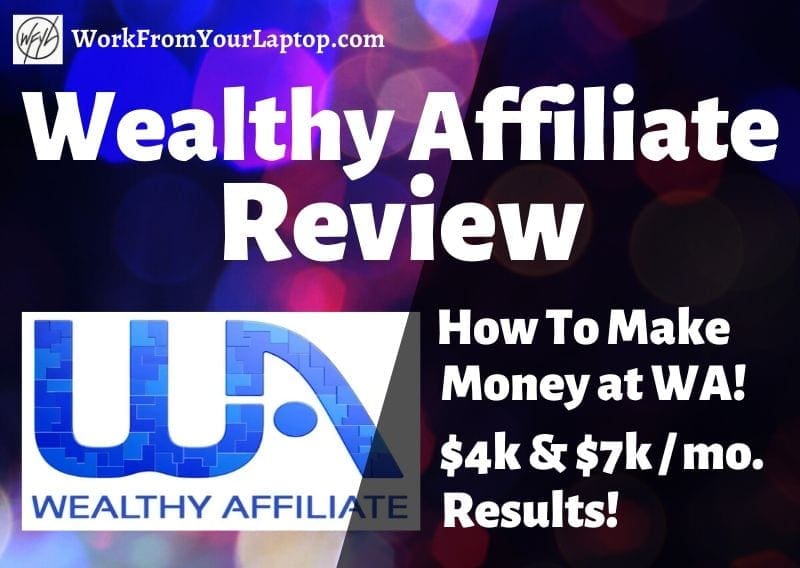 Read My Full Wealthy Affiliate Review
See why Wealthy Affiliate is my top recommendation for anyone looking to get started earning fast in affiliate marketing. Check out how it all works and see my personal results!
---
Feedback, Follow, and Subscribe!
Do you have a better understanding of how to optimize images in WordPress? What plugins do you use to downsize and compress your images? I'd love for you to share your experiences. Leave your comments and questions in the comments below. I'm always interested in responding to your questions and would love to hear what you have to say.
Feedback, Follow, and Subscribe!
As always, please like and share this article to your social media platforms. If you have any questions at all, please leave them in the comments section below. I always respond, and I look forward to connecting with you!
---