Wealthy Affiliate Review 2019: How to Make Money On Wealthy Affiliate
Affiliate marketing is the business of connecting people with what they're already looking for online. It's a MULTI BILLION dollar per year industry, and growing.
What makes affiliate marketing sexy is that most people online don't know they're being marketed to. Think about how powerful it is to connect people with what they're looking for, getting paid over and over for it, all without really needing to "sell".
Get Started With Your Affiliate Marketing Training Today!
---
In this Wealthy Affiliate 2019 review, I'm going to give you the insider details of how to make money with this training platform.  I'll explain how affiliate marketing works and show you my personal results as I started from scratch as a complete marketing newbie. I'll detail the immersive training you get with Wealthy Affiliate along with its price points & all the tools and resources included.
Additionally, I'll share a few other affiliate marketing training course alternatives and show how well Wealthy Affiliate stacks up. By the end of this review, you'll understand why I feel that Wealthy Affiliate is the best affiliate marketing training community you'll find online, bar none.
---
---
What is Wealthy Affiliate's track record?
How I found Wealthy Affiliate. (If a Texas firefighter can be successful with affiliate marketing then anyone can.)
Who is Wealthy Affiliate for and who is it NOT for?
How does affiliate marketing work?
What are the 4 core steps to making money with Wealthy Affiliate?
What if you already have your own business? Can WA increase your profitability?
Wealthy Affiliate's live training and weekly webinars.
How much does it cost to join Wealthy Affiliate? Learn how to get 100% of what WA offers for as low as $29/month.
How long does it take to make money with Wealthy Affiliate?
Testimonials.
How does Wealthy Affiliate stack up against the competition?
FAQs
Wealthy Affiliate's Track Record
Wealthy Affiliate is NOT the new kid on the block. Check out these stats and user results. (Many more testimonials at the end of the review as well)
For the last 13+ years, with well over 1.4 million members in 193 countries, Wealthy Affiliate has been the most successful affiliate marketing training platform online. So why haven't you heard of them? Because Wealthy Affiliate is less about hype and "gurus" showing off mansions and fast cars and more about STRAIGHTFORWARD TRAINING.
---
The average member stays with Wealthy Affiliate for 8 months, with many sticking around for years. This means Wealthy Affiliate isn't just a training platform, it's a true mentoring community.
---
---
"If a firefighter of 16 years with no background in affiliate marketing can learn how to make money on Wealthy Affiliate then anyone can."
---
How To Make Money On Wealthy Affiliate Review – A Little Bit About Me
I started my journey with Wealthy Affiliate in January of 2017. Check out my profile here. That's me in the middle with the Wealthy Affiliate founders Kyle Loundon & Carson Lim. This is us in Vegas when I qualified for the Super Affiliate Conference after my first year with this platform.
I'm proud to say I was able to qualify for Vegas again in my second year as well.
What does that mean exactly? It means that if a firefighter of 16 years with no background in affiliate marketing can learn how to make money on Wealthy Affiliate and be successful then anyone can.
I'm a visual learner and I don't like hype machines. This is why Wealthy Affiliate spoke to me. The training is straightforward, thorough, and it delivers. You're part of a true community of like minded people.
I now travel more than I ever have in my life, (follow my @batmantravels instagram & check out my recent trips) and it's all because of this great platform.
Who Is Wealthy Affiliate For?
Entrepreneurial minded people looking for a start in online business without products or services of their own
Anyone looking to sell their stuff online (photos, books, unique creations, etc.)
Bloggers looking to drive massive traffic to their website
Vloggers interested in video marketing and YouTube
Those who are intrigued by the idea of building a website and turning traffic into conversions and revenue
Traditional business owners looking to strengthen the online presence of their current business
People who want to be their own boss but don't know where to start
Stay at home moms & dads looking to work from home
People wanting to spend more time with their family
Adventures who want to an online business that can travel with them
Retirees looking to create a new chapter in their career
Students looking to supplement their income with consistent money online
Online marketers looking to drive traffic to their content for more leads
Intelligent people who are driven, focused, and can follow instruction
Who is Wealthy Affiliate NOT For?
Online business is NOT some kind of magic shortcut to being rich. It takes real work. You need focus. Don't fall for those hype machines you've seen in ads with testimonials from people claiming they worked as a barista 90 days ago and are now making 6 figures a month.
You're smarter than that.
But fear not. There is real money to be made in affiliate marketing. So how does it work?
What is Affiliate Marketing and Does it Work? 
Affiliate marketing is the very lucrative industry of connecting people with what they're already looking for online. Partner with the most trusted merchants and get the most popular products in the hands of the people wanting them the most.
Imagine a storefront with thousands of people outside waiting to get in. Now imagine knowing EXACTLY what they all want to buy. What would you do? You'd stock your shelves with what they're looking for, right?
And, oh yeah, it's completely free.
Now don't get me wrong, there are costs to managing a website. However, partnering with even the biggest merchants online is 100% free. The massive global traffic you'll learn to drive to your site from search engines like Google is 100% free. You don't even need products or services of your own to be very, very successful.
And thanks to Wealthy Affiliate's hosting, the costs of managing your website are vert affordable. More on that in a bit.
---
With affiliate marketing, you're catching your target audience at that point in the customer purchase lifecycle when they're already looking to make a purchase. There's no cold marketing or need to "sell". These are people who are typing in their searches into Google looking to buy. 
---
Wealthy Affiliate Review 2019 – A Look Into How the Wealthy Affiliate Training Program Works

Step 1: Choose an Interest and Profitable Niche
It all starts with a niche. The great news about Wealthy Affiliate is that you have complete freedom with your business. What's your passion? What do you have a genuine interest in? The most fun part about affiliate marketing is building a business around something you already LOVE.
Wealthy Affiliate's training will guide you on how to find your profitable niche. You don't want to be too general or way too specific. For example, "music" or "sports" is way too broad.
And then on the flip side you don't want to go so specific that you're the only person on earth in that target audience.
The fact of the matter is that ANY niche can be very profitable when done right. You don't have to try to rack your brain trying to discover an untapped market to make money online with. The real key is having a passion and interest for your niche & getting trained right.
Wealthy Affiliate guides you through this process so that the "job" of building your affiliate marketing business that much easier. Wherever your interests are, that's where you want to build around. In this way, the target audience you're reaching out to has similar interests to you.
Step 2: Build a Website
Never built a website before? Don't worry! Neither had I. Wealthy Affiliate guides you through every step of the process so you'll be a pro. You'll build your websites on WordPress which is by far the most popular platform to build a website on with limitless customization.
When you're ready, Wealthy Affiliate will have your website built in a matter of minutes. Choose from countless themes to bring your vision to life! Start on a free domain and then when you're ready you can move your content over to your very own .com, .net, or .org domain.
You'll have all the right foundational elements built into your website so that it's ready to run lightning fast and handle massive traffic.
Additionally, all sites are automatically backed up and you'll have 24/7 support so your site is never down. You're going to put forward the best possible product for your audience, and they're going to thank you for it!
Step 3: Attract Visitors
Traffic is the key to revenue, bottom line. Without traffic you'll have no revenue, right? So many of the affiliate marketing training platforms I found online prior to Wealthy Affiliate try to charge THOUSANDS for their high ticket traffic building module. 
Instead of charging you separately for a traffic building training module, Wealthy Affiliate integrates what I feel is the best keyword research tool for building traffic completely free into their platform.
Imagine having a tool that tells you the exact searches your target audience is typing into Google. Wealthy Affiliate trains you on how to target the most popular keywords with the least competition. Further, you're trained on how to write the highest quality articles for affiliate marketing around that keyword to bring in the largest audience possible.
Can you say FREE TRAFFIC from page 1 rankings on Google?
Step 4: Earn Revenue
When you connect your audience with the products and services they're looking for you get paid! This is called a conversion. Most merchants pay out through PayPal, so it's free and easy to get your commissions deposited into your bank account.
Wealthy Affiliate trains you on how to maximize your success through high conversion rates. When you're trained on creating content that focuses on the user experience, this adds so much value to your website and business. Your audience won't feel like they're being "sold", they'll see you as the answer to their search and this creates authority.
I still remember my very first commission. It's like that first dollar you see framed inside of restaurants. I kept saying "this really works" over and over as I stared at my laptop.
---
With over 120 in-depth course lessons & video tutorials, one on one mentorship, weekly live webinars & live training, 24/7 live chat, 24/7 site support, hundreds of forums & classrooms filled with member training, over 300 hours of catalogued live training, and the best keyword research tool for SEO you'll find online, Wealthy Affiliate gives you all the tools necessary to succeed.
---
Wealthy Affiliate for Business Owners – Understanding Local SEO
Local SEO (Search Engine Optimization) is the process of using the search engines to drive local traffic to your business. This is perfect for those who have their own business or products and services to sell. In this day and age, as a business owner you need a strong online presence to survive. Wealthy Affiliate has got you covered.
I was very impressed with this added aspect to the training as Wealthy Affiliate covers this nuance thoroughly. You'll get hours of expert training through course lessons and live webinars that you can play and replay at your leisure. Apply these strategies to your business to explode your online traffic and profits. Further, you'll be able to get tips from other members who have put these strategies into action as well.
Wealthy Affiliate's Weekly Live & Interactive Training
---
"In addition to everything else WA offers, the weekly live training webinars really set WA apart. Being able to watch an expert trainer teach critical methods and strategies for building your business live is PRICELESS."
---
The live webinars at Wealthy Affiliate really are priceless. This was huge for me. Premium members get access to this live training every single week, 52 weeks a year. These aren't prerecorded videos, either. This is fully interactive training with live chat and Q&A taught by WA's head trainer right before your very eyes. They cover just about every topic you can think of to help maximize your success in affiliate marketing.
You'll find them under the "Live Events" tab in your dashboard. Watch the video at the end of this article for a detailed look inside Live Events.
Being able to watch an expert trainer teach critical methods and strategies for building your business live is priceless. I've learned so much by watching WA's head trainer Jay (pictured below). He has an effortless, fun way of teaching that makes these webinars enjoyable and something to look forward to.
If you miss a live webinar, don't worry! You'll have the replay available to watch starting the very next day. There are over 300 hours worth of live webinars you can learn from covering a wide range of topics.
Topics covered in recent live weekly webinars include: Creating Brilliant Capture Pages, An Introduction to Funnels, Understanding Keyword Research, Coming up with Niche Ideas / Idea Generation, Ranking YouTube Videos, Email Marketing 101, and many more.
As you progress through the training, these additional live webinars will help you take your business to the next level. You'll also have a chance to interact with other like minded members and learn from their experience.
Wealthy Affiliate Review 2019 – How Much Does It Cost to Join Wealthy Affiliate?
Personally, this is my favorite aspect of this training community. Affordability and a "Freemium" test drive!

The $49/$39/$29 price points are the best I've found anywhere for this amount of training. It's immersive, thorough, and straightforward. This also isn't one of those trials where you'll be charged after a few days. There's no payment information needed and you can even start building during your test drive.
Get Started With Your FREE Test Drive!
---
How Long Does it Take to Make Money with the Wealthy Affiliate Training?
As with all business, when the question is asked "How long does it take to make money?" there are literally thousands of variables involved. But what I've found in my experience with Wealthy Affiliate is that it was much sooner than I thought.
I think I've been as transparent as possible sharing my earnings and how long it took me to earn them in the screenshots and video in this article. What did I do to get there? I became a student at Wealthy Affiliate University & followed its training to a tee.
Trust the system!
Given the opportunity to test drive a training platform that could potentially earn you thousands more than you're earning now should be an easy decision to make.
Let's be clear again about one point: Wealthy Affiliate is not a get rich quick scheme. If that's what you're looking for, it's time to hit the back button. As with everything, building a successful business takes the right tools, training, consistency, drive, and, yes, work.
Testimonials
---
From large commissions to small victories, there is a true feeling of community at Wealthy Affiliate. It's very much a hidden gem within this training platform.
---
How Does Wealthy Affiliate stack up against the competition?
I'm not here to write a completely biased, one sided review and leave you without options. Wealthy Affiliate has worked for me, but that doesn't mean there's nothing else out there. Here are a couple of other highly rated affiliate marketing training courses you can check out.
Chris Farrell Membership
Chris Farrell is a successful internet marketer who began online in 2008. He has set up a training curriculum called Chris Farrell Membership that is well received and similar to the style of Wealthy Affiliate.
It's not quite as immersive and lacks the free starter account, but he's a solid teacher and will train you from scratch just like WA.
To join his training you'll first have to become a part of his mailing list. Once signed up, you'll start getting emails every that walk you through his process. These emails are actually well put together and not boring.
You could sign up for those free emails and enjoy them as supplemental training to Wealthy Affiliate's training as well.
Chris Farrell Monthly membership: $37.
Chris Farrell Yearly membership: $297.
Chris Farrell Starter membership: $4.95 for first 7 days
Affilorama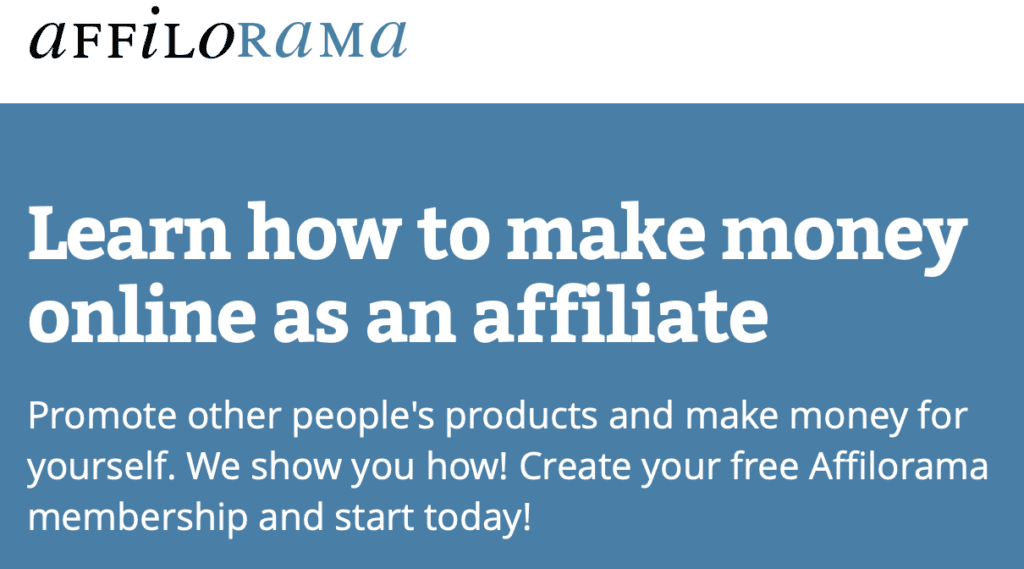 Affilorama is next on the list. The main difference between Affilorama and Wealthy Affiliate is that WA's premium membership gives you 100% of their training while Affilorama's training modules are paid for individually & separately.
Like Wealthy Affiliate there is free training along with premium training. Free members get access to blog content and training videos, while premium membership includes training modules you can buy individually.
The packages include:
As a supplemental resource I think some of Affilorama's free & premium content can be of benefit.
Udemy
Udemy is one of the largest online learning platforms you'll find.  There are over 100,000+ video courses available and over 30 million students enrolled. You'll find a multitude of one-off video courses that can give you a plenty of training and insight into affiliate marketing at different levels of experience.
It lacks the community aspect of Wealthy Affiliate, and the pricing can sometimes be expensive, but there are many prolonged sales regularly where you can find a good deal. Search for "affiliate marketing" once inside, and you can browse through training by rating.
---
I feel that Chris Farrell Membership, Affilorama, and Udemy all have aspects to them which are great. Each of these training platforms listed has quality training which I feel work as solid supplemental training to WA to broaden your affiliate marketing knowledge base.
To read my full article on the best affiliate marketing training courses you can find online, click here.
---
Final Verdict
Does it pay to learn how to make money on Wealthy Affiliate? This is a no brainer.
Take a Sneak Peek into the Wealthy Affiliate Member's Area
I bet you're a bit like me. After all those details I've shared, you'd still rather see something for yourself than make a decision based on what someone else tells you. Not a problem. I totally get it. Click the video below and take a tour of the Wealthy Affiliate members area!
---
---
Feedback, Follow, and Subscribe!
I hope this 2019 Wealthy Affiliate review has helped you understand how to make money on Wealthy Affiliate. What questions do you have for me? Have you had experience with affiliate marketing before? What's drawn you to this industry? Any horror stories with other platforms?
Feel free to leave a comment or question in the comments section at the end of this article. I love hearing your stories and insights and look forward to hearing from you.
If you enjoyed this article, please subscribe to my Work From Your Laptop YouTube channel! And if you love travel adventures, follow me on Instagram @batmantravels!
---
---
FAQs 
Q: What's the difference between Wealthy Affiliate free vs premium?
A: With premium membership you get 100% of what Wealthy Affiliate has to offer. You'll have access to 100% of the lessons and 100% of the features. The free starter account gives you access to the first 10 lessons in both the Online Entrepreneur Certification & Affiliate Bootcamp. Within these lessons a lot is covered. You'll learn all about how affiliate marketing works, the power of keywords, and more. You are also freely allowed to begin building your site and trying out WA's different tools for yourself. You will also be able to navigate all over the site and jump into premium features like live chat.
My recommendation is to create your starter account and then immediately take advantage of the $19 first month. You'll never get a better deal than that.
---
Q: Do I need my own product or service to get started?
A: No, you do not. You can be extremely successful without having any products or services of your own. If you do have your own product or service you'd like to promote, more power to you. Use Wealthy Affiliate's training to get massive traffic to your site! Traffic is the absolute key to making sales of any kind.
---
Q: Can I apply this training to a website I already have? Can I build a site on a domain I already own?
A: Yes, you can apply the training at Wealthy Affiliate to vastly improve your already existing site. Premium members can build on domains they own, or register a new paid domain through WA.
---
Q: Can I buy a .com, .net, or .org domain through Wealthy Affiliate, or do I need to do this through outside hosting like GoDaddy?
A: Both free and paid domains are available through Wealthy Affiliate. You can buy your own .com, .net, or .org domain directly through Wealthy Affiliate for only $13.99-$15.99/year. Wealthy Affiliate's hosting is comparable to what other hosting sites like GoDaddy and Bluehost charge $250/month for. Many of my referrals become premium members so they can move all their domains to WA for this savings alone.
---
Q: Is Wealthy Affiliate a pyramid scheme or MLM (multilevel marketing) scheme?
A: No, it is not. You are not required in any way to promote Wealthy Affiliate or even take part in its affiliate program. There are no downlines or recruiting involved. You do not earn or benefit in any way from any referral's commissions. Your referrals won't need to do any recruiting. Most importantly, you can concentrate your business in any niche of your choosing. Your commissions are based on your efforts alone and no one else's.
---
Q: What is the difference between network marketing and affiliate marketing?
A: With network marketing (also known as multilevel marketing) you are required to recruit. Your objective is to get as many people to join the system as possible, and have them do the same. You are not free to choose the direction or niche of your business. Your commissions are heavily dependent on the efforts of your team. Affiliate marketing has no recruiting element to it and you are free to choose any niche you like. You are simply connecting people online with what they're already looking to buy. Trusted merchants you partner with will pay you commissions based on sales you help make.
---
Q: Is it really free to join? Is Wealthy Affiliate really worth it?
A: Yes, Wealthy Affiliate is free to join. You don't enter any payment information when creating your free starter account.
---
Q: Is Wealthy Affiliate a scam or legit?
A: When I got the chance to meet the founders and leaders of WA in Las Vegas I left truly inspired. The entire focus of the week was on how to continue improving the platform. The roundtable meetings we had during the week were spent discussing how to help members further. Not once were there talks about raising price points for more profit. In fact, Wealthy Affiliate proudly remains at the same price point they started with 13 years ago when they were simply a keyword list site!
I've been a part of many organizations in the past, and WA's leaders are truly inspiring and accessible. This is the best training platform and mentoring community for affiliate marketing you'll find. I believe that wholeheartedly. I've personally had nothing but positives as a result of being a part of this community. I recommend this platform above all others and hope for the opportunity to help you as your coach.
Wealthy Affiliate is absolutely legit 🙂