Knowing how to create a link to a website is a foundational element of building your own online business. Links are important because they are a great way to get information to your readers. Most of us are very familiar with clicking on links, but do we understand the difference between the different types of links out there?
For example, how important is it to link to other authority sites? How much is too much linking? Should we link to our own content? How important is it when authority sites link back to us?
Learn How to Build Your Own Website That Brings Full Time Revenue Now!
---
In this article, with video, I'm going to show you why it's so important to write articles and create content with a good balance of internal links, external links, and backlinks. I'm going to explain why they're important to Google and the kind of impact they can have on your business. I'll also connect you with the best training platform for building your own website and online business from the ground up.
So sit back, relax, and lets learn all about how to create a link to a website, shall we?
How to Create a Link to a Website – What are Internal Links, External Links, and Backlinks?
Watch the following video that covers the difference internal links, external links, and backlinks. Learn how to have a good balance of links in the content you create, how to achieve each type of link, and how Google will reward you when you connect your readers to good content.
---
---
Each type of link has its place in your posts and in your website. Utilizing each type to connect your audience to quality information can score big points with Google.
Remember, Google is all about getting quality content to the masses. No matter what niche you're in, when you build content with the focus on your user experience you'll see your content rise up the Google ranks.
---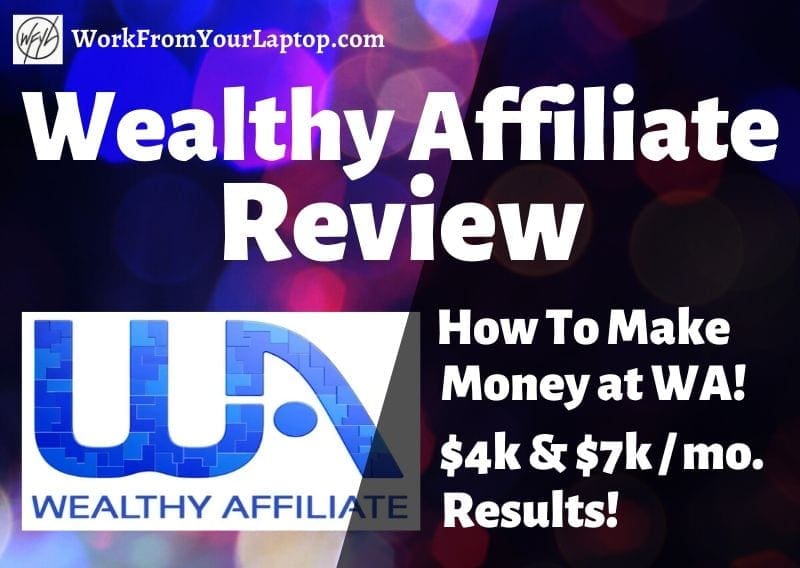 Read My Full Wealthy Affiliate Review
See why Wealthy Affiliate is my top recommendation for anyone looking to get started earning fast in affiliate marketing. Check out how it all works and see my personal results!
---
What are Internal Links?
An internal link is simply a link from one of your posts to another one of your posts within your website. Through this type of link, the reader never leaves your site, thus the name "internal link".
You should always have internal links in your posts. Think of it as a way to show the reader around your site. When you are linking to your own content, users follow these links and Google recognizes this as a signal that your site has something good to offer.
This also helps your bounce rate. What is bounce rate? Bounce rate is a metric that Google measures to determine site authority. It's the percentage of people who arrive at your site and don't visit any other page on your site before leaving, or bouncing. A high bounce rate tells Google that people are arriving to information that isn't very helpful. A low bounce rate tells Google that your audience is arriving and then browsing the rest of your content looking for more.
Internal links directly help lower your bounce rate and help strengthen your site authority.
It's not all about having just internal links though. When you have nothing but internal links, Google sees this as you trying to horde all the web traffic to yourself. For this reason it's also very important to use external links as well.
What are external links?
Conversely, external links are links that take your reader from your website to content outside of your website. These are great for sharing information from a trusted authority site. Your audience can greatly benefit from this and it's a great way to heighten their user experience.
Don't be afraid to use external links. Sometimes bloggers feel like an external link is just an opportunity to take your audience away from your content. But when you connect your audience with great info that helps answer their question or solve their problem they remember that!
Everyone has that friend on social media who posts nothing but funny videos. When they post a great one that makes you laugh, guess what? You end up looking forward to their next post. In the same way, linking to great content is a great way to achieve a high user experience.
In every single piece of content I write, I strive to use 2 external links from authority sites at the very least. You still want to maintain a balance and not overdo it with external links.
If all you did was use external links on your website, why would Google bother ranking your in their searches when all you do is take your audience away from your content? Always make sure you have a good balance of internal and external links on your content.
What are backlinks for?
Backlinks are usually the links people seem to misunderstand the most. A backlink is simply a link to your website from a source outside your website. In short, it's when an outside source "links back" to you.
Backlinks become important because if enough outside sources are linking back to your content then this shows that your site has authority.
When you focus on creating quality content for your target audience, this enhances the user experience and builds real traffic. And when your audience feels that you have great info, guess what? They're going to link to you in a heartbeat when they share it!
When you have a good number of backlinks, this is great for SEO and ranking. Google sees all these other sites linking to yours and realizes your site must be an authority site. Because of this, your content must be quality content and your posts will rank higher on Google! Understanding how to Google for business creates more traffic and real revenue potential.
Don't Try to Cheat the System!
In the past, there were those who would try to use black-hat SEO to create backlinks all over the internet for their site. There were pay sites that would create page after page of nothing but backlinks and for a fee you could have your website be a part of that directory.
Google is smart though, guys. Anytime someone tries to cheat the system, Google is right there to correct it. They soon made those types of backlinks less important of a factor towards ranking and started eliminating those sites that had nothing but links and no real content.
The point here is to focus on creating quality content and getting backlinks the correct way. This creates real authority and rankings that won't disappear overnight when Google periodically changes its algorithm.
Leaving relevant comments on other websites within your niche is a very positive thing for ranking and SEO. When you're active within your niche, people take notice. When you see relevant content out there on the internet, become a part of the discussion.
Every time you leave a comment you get the opportunity to link to your website. Leaving helpful comments for people means they may click on your link to see what else you have to say!
Internal links, external links, and backlinks are all vital when it comes to creating content that builds traffic and revenue. Using a good balance of each can create real authority and a great user experience. In fact, did you know there's a "perfect" blog post structure you can use to help boost your traffic?
Creating great links can help your audience to not only navigate within your website but also to find their answers outside of it as well. And when Google sees that your primary focus is helping your audience find answers, you'll be rewarded with high ranks which is what it's all about.
If building a successful online website that generates real traffic and consistent revenue is something that interests you, I highly recommend you check out the same training community I got my start with. I've had nothing but positives from it, it's free to try, and the training delivers.
---
---
Feedback, Follow, and Subscribe!
Do you have a better understanding of how to create a link to a website? What other questions do you have? Is there any point of clarity you need in understanding the difference between internal links, external links, and backlinks?
Are you a blogger looking to build real traffic to your website? What road blocks have you had in your journey to create an online money maker? Share your thoughts and questions below and I'll look very forward to helping you in every way I can!
Feedback, Follow, and Subscribe!
As always, please like and share this article to your social media platforms. If you have any questions at all, please leave them in the comments section below. I always respond, and I look forward to connecting with you!
---